Project-Based Learning (PBL)
Creative License: Using Art as a Medium for a Well-Rounded Education
At the Oxbow School, the arts and research magically interweave.
Under a blue sky during the cool northern California winter, Michael Lopez was conducting first-person research for his final art project at the Oxbow School, a semester-long art program in the Napa Valley. Lopez's subject was low-wage labor, and his research that afternoon consisted of raking leaves. As he worked, he ticked off the skills he had learned in fifteen weeks at the school: time management, self-control, a research-based approach to creating art, and confidence in his ability to talk about his ideas. Strange lessons learned at an art school? Perhaps. But just the sort of skills Oxbow's faculty intend to teach.
The private program, which enrolls up to forty-eight students from public and private schools each semester, was founded in 1997 by San Francisco philanthropist Ann Hatch, along with Napa wine giants and art patrons Robert and Margrit Mondavi. Since opening in 1999, the school has served more than 300 students.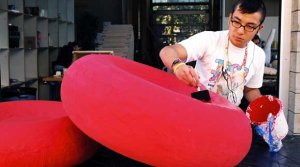 Credit: Grace Rubenstein
Blood Work: Norbert Garcia Jr., of Tucson, touches up a giant red blood cell for his final project on AIDS.
At Oxbow, there are no right and wrong answers, no good and bad artists. Whether or not students realize it when they arrive, the school's ultimate aim is to cultivate self-knowledge, a passion for inquiry, and critical thought. No portfolio or demonstrated artistic ability is required for admission, only a self-portrait, which may take such unconventional forms as a map or a suite of poetry. Art is highly valued, but finally, at Oxbow, it's only a medium for learning.
"It's not just about art here," says Stephen Thomas, the school's founding director and printmaking teacher. Instead, the school is designed to help students figure out what kinds of learners they are. "It's about coming to certain realizations about yourself," Thomas says.
Oxbow pursues these goals by structuring all its lessons around projects and insisting that students learn by doing. The backdrop to this semiannual journey is a serene, intimate campus near downtown Napa, where the school's small white buildings are clustered like a tiny village around an oxbow, or bend, in the Napa River. Each cube-shaped studio building features an 18-foot ceiling and a wall of glass that faces the river. The look of the kids is casual, as befits California's wine country. You'll find few J.Crew sweaters here, and red lipstick is rare; students, all high school juniors and seniors, attend classes of no more than 16 in paint-stained jeans or pajamas. About 60 percent of them come from public schools, and one-third receive financial aid to help with the hefty $17,500 tuition.
Credit: Heidi Swanson
Over the first four weeks of the semester, students engage in small projects in each of the four studios -- painting and drawing, sculpture, printmaking, and new media -- to gain familiarity with basic principles such as observation and place. Mid-semester, they graduate to longer, more research-intensive projects and work collaboratively with visiting artists who take up ten-day residencies. The lessons learned through these exercises funnel into a final project students work on exclusively for the last four weeks. Throughout the semester, the art teachers facilitate students' exploration and pose critical questions, avoiding instruction that Thomas describes as "I'm the master--be like me."
Small Strokes, Big Lessons:
Kamali Southwell-Teabout works on a project in the painting studio.
Credit: Heidi Swanson
The teachers also demand rigorous research, write-ups, and formal bibliographies to back up each work of art. For example, a young artist planning a piece on AIDS might first study the biochemistry of the disease, or one illustrating the experience of Chinese Americans might first learn the history of Chinese immigration to the United States. Students are forbidden to start making art before researching their topics. Their designs are often derailed and transformed by what they discover (see the sidebar), but their teachers believe that's a good thing: Research informs and strengthens art.
"What we really teach is artistic inquiry," Thomas says. "We don't believe that artists just sit and wait for a bolt of inspiration to hit them." Through inquiry, he adds, "you may end up way off in a whole different plane. We want to see that you responded to something that interested you and followed it right out there."
In academics, Oxbow is equally unconventional. The school embraces depth over breadth and places heavy emphasis on discussion and critical thinking. Science and English are combined into a single course called Perspectives, which covers the history of modern physics and uses texts such as The Tao of Physics and the play Copenhagen to examine science and philosophy as different modes of viewing reality. History focuses on the Mexico-United States border, considering its formation and the social, political, and economic issues that continue to surround it. The Perspectives class and courses in art and history each meet twice a week for two hours and forty minutes, and require extensive work outside of class. (That means Oxbow students attend six classes throughout the week, similar to a college student's schedule, instead of the usual high school regimen of six a day.) On Fridays, they take field trips to museums, galleries, and artists' studios.
Credit: Heidi Swanson
History teacher Jane Uyeda, who has taught at Oxbow since the beginning, recalls with distaste her experience in more traditional schools, where students ran from one bell to the next and had less opportunity to explore. She says, "I don't ever want to teach that way again."
For students such as Lopez, who has since graduated from a public school in Albuquerque, New Mexico, Oxbow achieves everything it sets out to do. He says the opportunity to form his own opinion and analyze issues here contrasts with the education at his regular school, where teachers deliver information with the message "This is right." Merideth Hillbrand, who graduated from a public arts magnet school in San Francisco after her Oxbow semester, also describes contrast in the two schools' approaches to teaching art. At her regular school, she says, "there's a model and then you draw the model, or there's an apple and then you paint the apple.
"That's why I like Oxbow," she adds, "because students can experiment, not just learn the rules."
For others, the relatively unstructured environment and experiential model are less satisfying. Tamara Malas, a private school student from Orange County who has been making art all her life, says she wishes Oxbow teachers would demand more sophistication in the art their students create. Malas also thinks teens have to be mature to attend Oxbow, and they have to know why they're there. Her suitemate, Colleen Cronin, who lives in Massachusetts and is now a senior at the prestigious Phillips Academy, says Oxbow lacks the academic rigor of her regular school.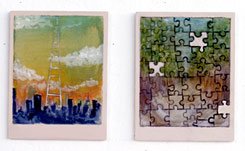 Credit: Heidi Swanson
Whatever their critique of the school, it's clear many students find at Oxbow the support and security to tap the most vulnerable places within themselves. For her final project last fall, Malas created six collages representing half a dozen medicines she must take for polycystic ovary syndrome, anemia, and depression. The panels illustrated the friction between her hostility to the drugs and her physical need for them. Norbert Garcia Jr., from Tucson, created larger-than-life models of the AIDS virus in memory of his uncle, whose homosexuality and his death by complications from AIDS were not discussed in his traditional Mexican American family.
At the final presentations last fall, when family members from across the United States came to see their children's work, visitors muttered words such as "courageous" and "honest." When it came Lopez's turn to present, the visitors were astonished to find they had been standing on top of his artwork: a patch of studio floor about 4 feet square he had scrubbed clean of paint and chemicals.
Lopez told his audience that the rest of society tends to take for granted the work of low-wage laborers (such as the amount of work it takes to produce a clean floor), but these laborers play an important role. Visitors murmured approval and asked him questions about his materials and thought process.
After the show, Lopez grinned broadly. The experience of presenting his work to an audience was, he said, "such a high, such a high."
Soon after, Lopez packed his bags and left for home. His classmates departed, too, scattering across the country again. With luck, they took a little bit of that high, and that spirit of exploration, back home with them.
Grace Rubenstein is a senior producer at Edutopia.
Art School Confidential: How I Lost and Then Found My Way to a Final Project
"Here's what I see," I said to the panel of Oxbow teachers assembled to hear my final project proposal. I held up a smooth, round stone, about the size of a walnut, that I had painted bright red. I knew I wanted my project to be about homelessness and to combine writing and photography. My idea for the narrative came from a children's book I love: Sylvester and the Magic Pebble, by William Steig.
The teachers looked on impassively. I explained to them that I considered the story, which hinges on invisibility, a metaphor for the homeless situation, and that I wanted to make a series of black-and-white photographs of various homeless people holding the stone, how I would hand color the stone red in each image and write a text consisting of all the stories I'd collect. "Aah," I thought, looking at my small, attentive audience, "now I've got them hooked."
"That's good," said Ted Andersen, my painting teacher, and then he proceeded to take the wind out of the sails of my high concept. "Have you thought about whether or not the homeless people will see themselves the same way you do?" he asked. "How will you connect with them? Are you sure they're invisible to all of us?" And then the kicker: "What's your own motivation?" This led to a humbling discussion on art ethics and the recommendation that I read Jim Goldberg's Raised by Wolves -- and an entirely different final project on homelessness.
It's a good thing, too, because, two weeks later, when I was photographing an ex-convict with tattoos -- swastikas and gang symbols among them -- peppering his powerful, naked chest, I was glad I hadn't asked him to hold a red pebble. What I had done was spend two weeks at a homeless shelter, without pen or camera, so I could learn about the situation beforehand, and they could learn about me. When the time came to use my tools, I found that what made the art sincere was the time spent in developing a rapport with the individuals at the shelter.
Half of the hand-bound book that became my art project consists of portraits of homeless individuals with their life stories on the adjacent pages. The other half turned out to be photographs of the shelter's signage; the book's last photo features a chalkboard message that reads in sweeping cursive letters, "Yesterday is history, tomorrow is a mystery, today is a gift. That's why we call it the present." Quite a different conclusion from the invisibility that first dangled in front of me with Sylvester and his magic red pebble.
-- Alexei Bien