Social & Emotional Learning (SEL)
From the Classroom to Your Driveway: Radio Host Shines the Light on Education
National Public Radio reporter Claudio Sánchez seeks out small trenches to tell the big stories of public education.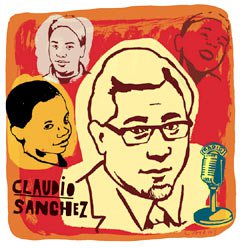 Credit: Brian Cairns
In the education policies handed down from Capitol Hill and state houses across the country, Claudio Sánchez hears voices -- the voices of students struggling to surmount obstacles, parents wishing for accountability from their children's schools, and teachers striving in the bleakest circumstances. Through his reports on National Public Radio, Sánchez amplifies their experiences so the rest of us can hear them. The effect is a patchwork of stories he hopes will translate what the politics, rhetoric, and data about education mean to children and families -- especially poor families -- in real life.
"I try to explain why things are the way they are, and to shed light on the things that people may not understand about the way public education works or doesn't work in this country," says Sánchez, who has covered education for NPR since 1989 and possesses the deep, confident voice of a radio announcer. His stories air on NPR's Morning Edition, All Things Considered, and Weekend Edition programs, and typically last seven or eight minutes.
Whatever the subject -- test scores, charter schools, teacher quality -- he focuses on families because, as he says, they are the parties most invested in education. He also broadcasts the stories of teachers, principals, and superintendents, whose testimonials resonate more with listeners than the words of any expert or politician could. Theirs are the voices most likely to create what NPR calls "driveway moments," when listeners are so captivated that they sit in their driveways with their car radios on long after they have arrived home.
"The best stories are narrow, small, simple stories with real people hopefully really saying what's on their mind," Sánchez says.
Last May, for example, he reported on the struggle of Jefferson High School, long regarded as one of Los Angeles's worst schools, to remake itself after a riot between black and Latino students tore the campus apart the previous year. The principal had just announced a plan to shrink the 4,000-student school by half and break it up into smaller, more personalized learning academies, but some parents remained unsatisfied. Parent Tessera Jackson wanted better answers, telling Sánchez, "There is a divide between cultures, between African Americans and Latinos, and breaking up the school in these little small learning communities is one thing, but you're still not teaching culture and respect."
Lori Fiddler, a teacher at Jefferson for twenty-eight years, told Sánchez many of the teens enter high school reading at a second- or third-grade level and are thrown into classes of forty to fifty students. Her voice barely containing her anger, she said, "They came here and they said, 'You, the teachers of Jefferson High School, are failures. This is a prison system that you're supporting.' How dare you?"
Sánchez, who was born in Nogales, Mexico, and immigrated to Arizona as a teenager, tends to gravitate toward schools serving poor and minority communities, like Jefferson -- places where he believes important stories too often go unheard. Though he says he never identified strongly with the Chicano activists of his youth in the Southwest, his heritage and bilingualism sometimes earn him an audience with families who might distrust reporters who don't speak their language. He says schools in areas of concentrated poverty, beset by violence, drugs, and unemployment, need at least twice the per-pupil budget of typical suburban schools just to meet children's most basic needs, such as nutrition.
"This is the stuff that people need to understand," he says, "and to hear it in stories, ideally from the people who are affected by it."
The hitch for Sánchez is being based in Washington, DC, where the vagaries of education politics frequently pull reporters away from the realities of education on the ground. With rare exceptions, such as the No Child Left Behind Act, policy shifts and head-butting in the capital "don't affect the day-to-day enterprise of education -- and yet it's impulsive, almost. We're in Washington; we have to cover this stuff."
Beyond the Beltway, for instance, Sánchez last August reported on a grade-fixing scheme at the top-rated high school in Camden, New Jersey, where administrators had inflated scores on state tests and altered transcripts to promote students who failed: The better students appeared to perform, the more money the superintendent would take home in performance bonuses. To Sánchez, the far greater crime was that the perpetrators were lying to children, giving them false notions of their own success. As parent Evelyn Acevedo asked in his report, "My daughter is an honor roll student. Is she really an honor roll student?"
It's not all bad news with Sánchez, though. He says he takes care to point out programs that do work well, along with those that don't. One such story, which Sánchez reported last March, emerged at Nativity Preparatory School, a small middle school in Wilmington, Delaware. Catholic lay workers, alarmed by the city's 60 percent dropout rate for African American boys, opened the school in 2003 with the goal of educating a relative handful of these youths well enough that each would get into a good private high school.
Sánchez described how ten-hour school days and Latin classes helped Byron Bailey and Darren Crippen, best friends, compensate for a primary education so thin that Bailey had been able to read nothing more advanced than Cat in the Hat books at age twelve. Sitting outside his house, amid boarded-up apartments and clusters of youths loitering on corners, Crippen told Sánchez that, outside of Nativity Prep, "There's not a lot of role models, like people to go to, people to look up to. I mean, it's no positivity, and children like us, growing up, we need a little bit of that."
In part because NCLB has drawn attention to kids such as Crippen and Bailey, Sánchez holds it up as crucial for education reform, despite its flaws. "If No Child Left Behind didn't exist, somebody would need to invent it," he says. "It has really shed light on school systems that had cheated, especially, minority kids and poor kids. Everything else prior to that was camouflaged."
Regarding the often-worrisome state of public education, he says, "It depends on where you sit, but you could see it as a crisis, or you could see it as an opportunity."
Sánchez's top priority for reform? Elevating the teaching profession, which he sees as diminished by poor teacher preparation and scarce talent. Sánchez himself taught for two years at an Arizona boarding school, but he concluded he wasn't good enough to continue, and switched to reporting. In the latter capacity, he doesn't see himself as someone trying to save the world.
Simply put, he says, the evolution of public education is "an extraordinary news story." Wars, fires, and tornadoes, Sánchez adds, might make for more dramatic listening, "but the lingering stories, the stories that are so slow in developing and incremental, yet they touch every one of us, that are harder to tell -- you have to have a real deep desire in telling these stories and thinking they can make a difference."
Sánchez aims for his stories, one small piece at a time, to foster in listeners an understanding of that evolution. In explaining this goal, he thinks of Byron Bailey, who learned in just three years to read books such as To Kill a Mockingbird. Sánchez remembers admiringly Bailey's response when asked how it felt to set a high standard for others to follow. The boy shrugged and said, "We're just children. We don't know that we're setting a high standard like that."
That kind of truth, Sánchez says, is what listeners need to hear.
Click on these links to listen to Claudio Sánchez's NPR reports on subjects mentioned in this article:
Grace Rubenstein is a senior producer at Edutopia.