Professional Learning
Design Thinking: Creative Ways to Solve Problems
Stanford University's k12 Laboratory applies the design process to teaching.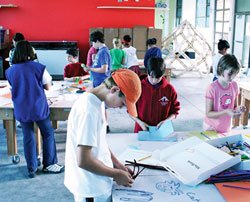 Credit: Adam Royalty
Tinkering Hands: Students at a suburban San Francisco school work on redesigning a preschool room.
Designers see the world differently than the rest of us. They're constantly deconstructing and rebuilding objects and ideas that most of us accept as static and fixed. The progression of the first behemoth portable computer to Apple's glossy little iPhone is evidence of the enormous impact designers have on our lives. Everything is negotiable, malleable, and improvable.
What if the same were true for the learning process? What if teachers reinvented how knowledge is passed along? To that end, members of the k12 Lab, an educational research program at Stanford University's Institute of Design, want to make designers out of teachers.
By applying the techniques of product design to education, they want to loosen the narrow, rigid process of traditional learning and show teachers how to tap into students' deep wells of creativity, encourage them to see nuanced problems from inside the very core of an issue, and make critical thinking essential to solving any problem.
The k12 Lab has distilled the design process down to the following steps: Understand, Observe, Define, Ideate, Prototype, and Test. All around their office in Stanford, California, the process is illustrated on whiteboards: A word circled in the center of the board indicates the subject at hand, while related ideas radiate out from the center, like branches on a family tree with many cousins.
Melissa Pelochino, a teacher at an economically disadvantaged school in nearby East Palo Alto, is a k12 Lab convert. After attending a workshop, she had an important realization.
"Our kids spend their time trying to figure out what answer the teacher wants to hear rather than on what they want to say," she explains. "They don't know how to process information without a how-to guide, with a model and an example for everything. We need to be asking our kids questions that don't have predetermined outcomes. We need to let them explore and construct and investigate and try and, most important, fail." Each iteration, k12 Lab's theory goes, will lead to even better ideas.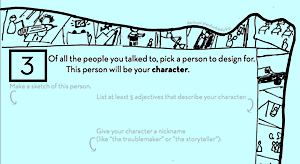 PDF [4.1 mb] Download: k12 Lab's Design Challenge tool kit
Pelochino tested the theories by asking her seventh and eighth graders to tackle bullying as a design challenge. She began by having the class read Tuesday of the Other June, by Norma Fox Mazer, a story about a young girl who's tormented by a classmate. Then the kids staged a bullying scene outside the school lunchroom, where a student is being taunted about a pair of pants. Classmates videotaped the reaction of passersby with a hidden camera: Only one stopped to intervene.
The impact of the experience on the class was dramatic. "By the end of the assignment, kids were cryingand arguing and were excited to make a change in their community," Pelochino says. "The observationphase, as the scene was being enacted, created space and purpose for really looking and listening to each other."
For perhaps the first time in their lives, the students considered the issue from multiple perspectives -- empathizing with the bully, the victim, and the bystanders who chose not to intervene.

PDF [608 kb] Download: How to frame a design challenge
Pelochino applied another design challenge to a scenario that resonated profoundly with a student whose father was in jail: how to make prison life more tolerable. For background, the class read Walter Dean Myers's novel Monster and some related articles about incarceration. They also heard from the boy whose father was in prison about his visits to his dad.
The class responded with two prototype ideas to improve prison life. One was a reusable portable food tray to give prisoners a choice of where they eat, the other a hanging curtain within a cell that inmates could close for privacy. They tested their prototypes at the Elmwood Correctional Complex, in Milpitas, California, and received feedback from a security guard on how to refine their ideas.
"For some of these students, this was their first positive interaction with law enforcement," Pelochino says.
From California to Illinois to India
At the Innovation Lab, a 3,500-square-foot space created by k12 Lab at the Nueva School, in the affluent San Francisco suburb of Hillsborough, first graders set about designing gifts for their families -- not tangible gifts, but gift experiences that would bring their entire families together for a day. After reflecting on their families' favorite activities, the kids came up with ideas.
Next came the challenge of making a physical representation of the experience, which meant finding a metaphor for the idea: for a walk in the rain, an umbrella; for reading, a hammock. Movie night becomes a warm blanket, the beach a swimsuit, a baking day a cake. This activity led to building actual prototypes as art projects: Baking Day became a rainbow-colored paper cake; Family Movie Night was represented by a handmade movie camera; Family Sports Day was personified by a clay baseball.
"When children get to put their ideas to practice on a real problem, that's when you make a real impact," says Adam Royalty, a k12 Lab design lecturer. "That way, they gain both creative confidence and realize that they are change agents. These two points, especially the last one, are rarely expressed to children nowadays."
In Chicago, the Henry Ford Learning Institute's Power House High Campus is a well-known epicenter for creative learning and the home of a k12 Lab-created design course called Foundations of Innovation. There, ninth graders are challenged to create delicious and healthy menu items for the cafeteria. Others are asked to work up plans for delivering clean, accessible water to the community. The school has designated Stop, Drop, and Design Days to make sure ample time is available to advance and complete all projects.
Across the globe, like-minded efforts are unfolding in India: As of last fall, more than 1,300 schools took up the Design for Giving challenge, organized by k12 Lab; the Riverside School, in Ahmedabad, India; and the design firm Ideo, cofounded by David Kelley, who also founded Stanford's design school. Students and teachers tackled only problems that could be addressed in a week.
In a traffic-choked urban city center, for example, one school convinced the municipal government to shut down a street to cars once a month so that the space could serve as a playground for 5,000 children to participate in dance and arts and crafts.
"Our kids need to find ways to think outside of the box rather than be confined by what is possible," Pelochino says. "Design thinking does all of this. It's a comprehensive approach to understanding the world and understanding how we exist in it. And it's so much fun!"
Tina Barseghian is executive editor of Edutopia.