Project-Based Learning (PBL)
Creative Thinking, Part One: A Traditional Country Flirts with Nontraditional Learning
Chinese educators are looking to project learning to develop student creativity.
I recently returned from a week in Beijing, where the Beijing Institute of Education was my host. I was there to do workshops around project learning, to visit Chinese schools, and to speak with Chinese educators, parents, and students. My collaborator in organizing this trip, and my translator through much of it, was Ren Wei, a professional facilitator and a new friend of mine who lives in Beijing. Project learning is our connecting point. Ren Wei translated the Buck Institute for Education's Project Based Learning Handbook into Chinese.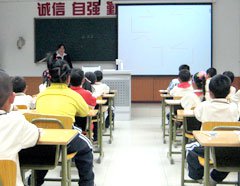 Credit: Jim Moulton
Recent curriculum reforms in China are creating a demand for new ways to engage students in deeper learning experiences. An effort is under way to transform Chinese education from a rigid, fact-based, lecture-and-drill model that includes super-high-stakes testing to a more student-centered model that features inquiry in a quest for deeper understanding, all without sacrificing factual content knowledge. Project learning is one of the models China is introducing, enthusiastically using resources from Edutopia.org, the Buck Institute for Education, and PBL-Online, the BIE's collaborative online project-learning resource.
Beyond the workshops I gave, I had the chance to visit diverse Chinese learning environments. I visited a public primary school, a public junior high school, a public high school, a private school for grades 1-8, an independent training center with a focus on creativity, and an internationally affiliated training center focused on English acquisition for ages 4-12.
In the public school settings, the incredibly well-ordered classrooms I spent time in struck me as something many teachers in America would lust after: Every child was attentive. There was no disruptive behavior. None. Zip. Zero. Students stood at their desks when called on to speak and sat back down only when the teacher gave permission. Ah, the sweet siren's song of absolute teacher control and total student compliance.
But then came my reality check. First off, I can imagine the quick pep talk before the class began: "Girls and boys, we are having a foreign visitor in our classroom today. He is here to learn about Chinese schools, so it is up to us to put forward a positive image of the Chinese classroom." Of course, any teacher in any country would do the same. So I know that I saw these classrooms on a very good day.
And although the teachers I observed were animated and obviously enjoyed teaching their kids, they did a vast majority of the talking, and the walking. Technology did play a significant role in every classroom I visited, but it was limited to teacher-created presentations displayed via the teacher's high-powered multimedia workstation connected to a massive high-definition screen or a digital projector and a screen.
Kids did speak up, but they did so generally only to answer questions, though the elementary school classrooms were much more open and active than the high school classrooms I visited. In one primary mathematics classroom, I did see several kids get the chance to explain their understanding of a newly introduced concept to the class via a document camera in the teacher's workstation. But this was the exception and not the rule; the majority of the teaching was of the chalk-and-talk variety, but digitally empowered with current presentation tools.
Please share your thoughts about this snapshot of Chinese education, and check back for the second part of this post.