Technology Integration
Cell Sanity: Mobile Phones Ring Changes in the Classroom
Controversy over cell phones will continue to cause static in schools.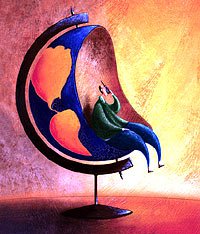 Credit: Bruno Budrovic
This is a multipart article. Click here to go to the beginning.
Immediately after announcing new enforcement of a cell phone ban in New York City schools last spring, Mayor Michael Bloomberg found himself the target of furious protests from parents who insisted they retain the ability to call their children during the school day. We see forward-thinking teachers, in an unlikely role, acting as peacemakers in this battle -- now raging across the country -- in the coming year. They will transform cell phones from distracting enemies into indispensable allies, not just allowing but also encouraging students to bring them into the classroom -- and leave them on.
Bloomberg and New York City schools chancellor Joel Klein justified their move to angry parents by pointing out that students use the phones to cheat, take inappropriate photos, and conduct gang business. Educators around the country have landed in similarly fraught territory, torn between the use and misuse of these both revered and reviled devices. But a handful of resourceful educators are blazing the path to a creative truce.
Ron Smith, who teaches digital graphics and video at Hollywood High School, in Los Angeles, and is a former Edutopia.org blogger, says he would no sooner confiscate a student's cell phone than he would take away a pencil -- both, after all, are tools for learning. He sees cell phones as portable personal computers already owned by nearly every student, even in his school's inner city neighborhood. "The cell phone may be used as a computation device, camera, text-messaging device, portable storage device, music player, word processor, and probably more," Smith writes. "Why on earth would I take that from my students?"
David Stong, a multimedia developer at Pennsylvania State University, writes via email, "Cell phones are putting tremendous capabilities in many, many hands. Students can dial up music. Why not a homework assignment? A lecture? Notes on a painting they're looking at? Commentary on a film they're watching? If students can text message each other, why can't they text message a teacher during a field trip with their impressions?"
Other teachers who have posted comments to Edutopia.org blogs say they exchange cell phone numbers with their students and use them to cultivate strong relationships through checking up on absent kids, helping students with problems after class, and contacting parents. Can cell phones be used inappropriately? Sure, these teachers say, but it's the behavior, not the device, that's the problem.
In a poll conducted in May on Edutopia.org about cell phones in schools, however, a respondent who called himself John K. wrote, "I long for a time when technology creates not just a bigger, faster, more immediate world but also an actual atmosphere of gentility, kindness, and courtesy toward others. Until that time, I favor keeping the buggers turned off during instructional time."
The innovations of educators such as Smith and Stong prove that you can have both.
Grace Rubenstein is a senior producer at Edutopia.