Social & Emotional Learning (SEL)
Boys and Body Image: Eating Disorders Don't Discriminate
Body-image troubles are gnawing away at boys, too.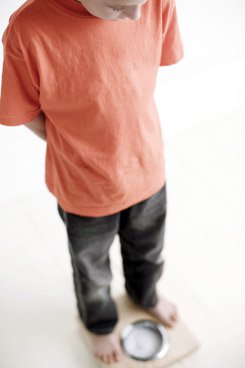 Credit: Photolibrary.com
The face of anorexia has traditionally been correlated with the skeletal female supermodel with sunken cheeks and protruding ribs. We all know too well how ideals like those play on the psyches of women and girls.
But there's another aspect of eating disorders that the public doesn't often see: the effect they have on men and boys. Just as the disorders frequently begin for girls at a young age, they also commonly strike boys as adolescents and teens.
"Eating disorders don't discriminate," says Julia Taylor, a school counselor at Apex High School, in Apex, North Carolina, and author of Perfectly You, a children's book on body image. She has helped countless boys with body-image problems and unhealthy eating and exercise behaviors. None has had a diagnosed eating disorder -- and that's part of the problem. Boys tend not to seek help for these issues, she says, and adults and peers tend not to recognize that boys can have them, too.
A 2007 study published in the journal Biological Psychiatry found that 0.9 percent of women suffer from anorexia during their lifetime, 1.5 percent have bulimia, and 3.5 percent have binge-eating disorder. Among men, the numbers were 0.3 percent, 0.5 percent, and 2 percent, respectively. The median age of onset in the study ranges from 18 to 21, meaning about half of people who have eating disorders develop them before that age -- while in middle school, high school, and, occasionally, elementary school.
Taylor's school addressed the problem with a body image awareness week in December, dedicating one day to the following theme: "Body image: It's not just a girl thing." When she and fellow counselors handed out educational pamphlets, she says, "guys did not even want to go near our table." Later, when the table was unsupervised, Taylor noticed that boys "would look at it, then walk away, then come back and fold up a pamphlet real quickly and put it in their pocket." She left all her materials for boys on the table on Wednesday, and they were gone by Thursday.
Leigh Cohn, coauthor of Making Weight: Men's Conflicts with Food, Weight, Shape, and Appearances, says educators should talk openly with students. "They should be on the lookout for signs and intervene," he notes.
Like girls, boys with eating disorders may become obsessed with food and weight, associate their self-worth with their appearance, develop distorted perceptions of their body size, and exercise compulsively. According to the Seattle-based National Eating Disorders Association (NEDA), educators might also observe a student disparage himself, suddenly lose or gain weight, feel cold or tired, develop dry hair or skin, and avoid eating around others. Under-nutrition can cause irritability, fatigue, and poor concentration and, in extreme cases, is life-threatening.
The behaviors that come with eating disorders can differ somewhat between boys and girls. Boys are more likely to focus on building huge muscle mass, exercising to extremes, and even taking unhealthy supplements or steroids -- though not all boys with eating disorders do. However, the emotional and physical consequences are the same.
"You may ask, 'Isn't an emaciated person with anorexia different from an overly bulked-up athlete? No. They have the same self-esteem issues, the same hurt inside, the same influence of genetics," Cohn says. Cohn recommends talking to students without judgment and discussing with them how to seek help from an eating disorders expert. NEDA offers a free and useful educator tool kit on its Web site, nationaleatingdisorders.org, which includes basic information and tips on how to respond. Cohn says, "We know that early intervention and prevention is the best method of curing the problem."
Grace Rubenstein is a Senior Producer at Edutopia.