Literacy
Young Storytellers: The Tale Begins
Engaging children in the storytelling arts can easily enhance curriculum and social-emotional learning while building confidence and strengthening the school community.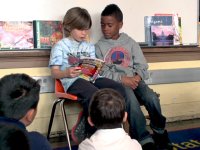 This post follows on from my previous Edutopia posts about storytelling: its many benefits for classroom teaching, my particular style, and how to become a storyteller. This new blog will describe the process of realizing an unfulfilled ambition: starting a program for students to become Young Storytellers, in which they tell stories outside my classroom and on their own.
This summer, I moved from an international IB school in China to another international IB school in Europe. As in every school where I have worked, I have started telling stories in my class, in my wife's class, in school assemblies, and at community events. As usual, I started an after-school storytelling club for elementary students of all ages. My students continue writing their own stories and telling them in my class, learning from my style and becoming storytellers in their own right. And now, in my latest school setting, something new has occurred.
The Story Starts
The new development is that my students are now officially Young Storytellers, visiting other classes ranging from kindergarten to third grade. Here is how I achieved it:
1. Start in class.
I have the students practice telling their stories and directing actors inside the safety of my classroom. This allows me to review the story and give guidance to the actors.
2. Build confidence in assemblies.
I've told stories in assemblies so that willing students become used to the basics of performing for an audience: facing the right way, using a big voice, etc. These are ongoing skills to learn.
3. Set story-writing rules.
I don't want to limit creative expression, but the standard rules apply: no story should feature any bad words, excessive violence, or "toilet" humor.
4. Get your principal onboard.
Luckily, my principal is a big supporter of creativity and student-initiated action, so this was easy.
5. Set high expectations.
I remind students that they are ambassadors for themselves, for all of Grade 3, and for me.
6. Give it a trial run.
It's vital to find the classroom of a trusted colleague who shares your enthusiasm and can support your students as they take risks. Luckily, I have my wife in Grade 1.
7. Start with lower grades.
Those younger audiences will be much more forgiving of mistakes, and they love seeing older peers, brothers, and sisters performing for them.
8. Make connections to curriculum.
I have tried to connect my students' stories, ranging from their versions of folk tales to realistic fictions to the school curriculum. For example, Grade 3's stories about problems in the playground have matched Grade 1's inquiry into relationships, and inspired written responses from the younger students.
9. Issue official badges.
My students are very proud of their special laminated badge, which they helped design themselves. I only hand this out once a student has made a successful visit to a different class. It has to be earned.
10. Take everything with you.
I insist that students take their story and all the props with them. They must be organized. The rare exception is for students with learning needs such as dyslexia, but this exception is worth making for the huge boost to confidence of being a Young Storyteller.
The Problems
The truth is that, aside from effort and persistence, there are some teething problems with an initiative like this, such as:
1. Enthusiasm
The best problem is the students' desire to visit other classes. Managing their enthusiasm can be hard, especially for a busy teacher with an already overprescribed workload and curriculum to manage.
2. Support
You need the support of colleagues in opening their classrooms. Without at least one, the initiative will never start. I am lucky to have a wide enough range of colleagues willing to share in the creative risk.
3. Girls before boys
Out of the seven young storytellers, six are girls. The boys actively volunteer as actors, but this current cohort has many outgoing, ambitious girls. Some may feel this is a problem, but I feel that any student willing to tell stories, regardless of gender, benefits her- or himself and others.
4. Maturity levels
On occasion, some students get over-excited with the acting and require coaching or some time to develop more maturity before revisiting another classroom.
5. Citing sources
It is important for Grade 4 students to acknowledge the origins of their stories, especially if inspired by books, films, folk tales, etc. This will link to the wider curriculum and introduce the idea of plagiarism.
The Future
I remain a big dreamer. I picture a school whereby all my colleagues want to be storytellers, and the entire student body is inflamed with creativity, igniting literacy and wider curriculum. For now, I am pleased and proud to have made a start at giving students a brand new opportunity and sharing the passion and power of storytelling with peers and colleagues. There is always tomorrow -- a new day and a new story. I hope your students are the ones telling it.
Please tell us a story about student storytelling in your school.