Teaching Strategies
Women's History Month: 6 Lesson Plan Resources for Teachers
February 28, 2013
Updated February 9, 2016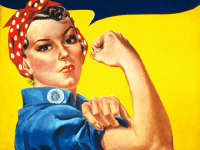 March is Women's History Month, and International Women's Day, March 8, is also a part of the celebration each year. For educators and students, the month provides a wonderful opportunity to explore and dig deeper into women's contributions, struggles, and triumphs throughout history.
A great place to start is the National Women's History project, where students can explore this year's theme, "Nevertheless, She Persisted: Honoring Women Who Fight All Forms of Discrimination Against Women." Teachers will find some great resources for incorporating women's history into lessons this month and beyond, as well as for exploring gender roles and stereotypes with students.
Discussing Gender Roles and Stereotypes in Class
In The Trouble With Women's History Month from Teaching Tolerance, Maureen Costello raises a point about the need to add context. Although it's easy to highlight influential women, she writes, Women's History Month is also the perfect time for students to confront gender stereotypes and societal norms. We've compiled some age-appropriate resources and lessons that will help educators approach these topics in ways that are developmentally appropriate. Here are a few for students in elementary school, middle school, and high school:
Reading Lists and Additional Collections for Students
There are many great women's history reads and resources online. These reading lists and additional resource collections may help spark curiosity in your classrooms.