Education Trends
Why Teachers Matter
May 20, 2014
Updated May 5, 2014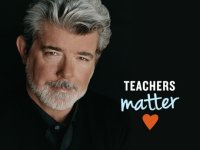 When I was growing up, I didn't enjoy school very much. I liked English class, and shop. (Those were the days when we had shop . . .) But when it came to math and science, I didn't do that well. The truth is, I barely made it through high school.
Today, our educational system looks much different than it did when I was a student. Especially in recent years, we've been undergoing a major transition in education.
Kids today grow up immersed in a world of digital technology. Information is now freely available to everyone. It's powerful. Digital technology can get information, store information, do calculations and connect people in new ways.
Digital technology can do so many amazing things for the learning process, but it can't be human.
The Human Touch in Education
When you really think back about your best teachers, they were the ones who connected with you. They might have been classroom teachers, after-school coaches, parents, or principals. They patted you on the back, knew your name, and made jokes with you. They were human beings offering encouragement and building confidence, saying things like, "I know you can do this. Come on."
And this is one way in which the world hasn't changed: teaching is still the most important job.
To me, there is nothing more exciting, fulfilling, and wonderful than watching a kid finally grasp a concept, then take the information and use it in the real world.
Teachers make this happen. Teachers motivate. Teachers synthesize information to help students understand. Teachers listen, coach, and mentor. Teachers matter.
On behalf of the rest of the staff at The George Lucas Educational Foundation, thank you, teachers!