Student Engagement
When Astronauts Read Aloud Children's Stories – From Space!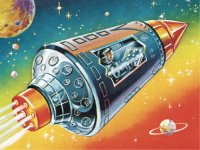 Ever listened to a story being read at 17,000 miles per hour? Just click on the "Story Time from Space" website and you can watch videos of astronauts reading stories from the International Space Station. "Story Time from Space" is a project sponsored by the Global Space Education Foundation, a nonprofit education foundation that works with NASA.
I spoke with the author of the first five books chosen to be read in orbit from the International Space Station. Dr. Jeffrey Bennett's books are elementary grade-level books that feature his dog, Max, as he goes on learning adventures in space. The first book is titled, Max Goes to the Space Station.
About the Program
What launched this adventure? The Director of Education at NASA, Patricia Tribe, and astronaut Alvin Drew called Dr. Bennett and asked him if he would like his books read from space. Of course he was elated and gave permission for five of his books to be shuttled to the International Space Station. As the space station orbits, the books have been read all over the world in English, German, and Japanese. Although Dr. Bennett's books themselves are primarily for younger students, teachers can access lesson ideas and plans that relate to significant science applicable to all ages.
Additionally, rather than the traditional experiments that the astronauts perform with whatever they happen to have on the station, "Story Time from Space" will be designing experiments for the astronauts that correspond to the stories being read and will also be accessible from the website.
While there has been no marketing or advertising, responses to this program have been overwhelmingly positive, according to more than 2000 surveys collected by Patricia Tribe, and the many email messages received worldwide. Students all over the globe are enjoying the ability to listen to stories read by astronauts and watch the correlated science experiments.
This April, nine science experiments designed by the "Story Time from Space" team will be launched into space for the astronauts to perform and broadcast to the world from the International Space Station.
More about the Author
Dr. Bennett, the author, was a research associate at the University of Colorado Center for Astrophysics and Space Astronomy, and has worked at the California Institute of Technology Jet Propulsion Laboratories and NASA Headquarters in Washington, D.C. He started his career in education as an elementary school aide and never lost his desire to help young people understand science.
The inspiration for his books came from his small son who was asking him about the moon as they took outdoor walks with their dog, Max. Dr. Bennett thought, "Why not send Max to the moon?" So he sent a fictional version of Max to the space station, the moon, Mars, and Jupiter. Dr. Bennett spends his time writing textbooks and children's science books and is constantly surprised by the common errors in science that are found in today's science books for students. He strives to write books that are factually correct, fun, and interesting for students to read.
When asked about his ideas of the future and STEM education, Dr. Bennett states that we need to do a much better job at inspiring our youth to be interested and engaged in science and STEM. He stated that we need more scientists and science practitioners in the workforce, and we need a society that is sophisticated enough to know the need for science and understand its importance to the future.
Dr. Bennett was hopeful that the next generation of STEM standards will point the way to where we need to be as educators -- and students. He warns that learning science is not easy and requires diligent effort and work to master. He believes that if states are going to raise standards, they must also raise the time allotted to master the scientific concepts appropriately.
What's to Come?
Thanks to Jeffrey Bennett, Patricia Tribe, and Alvin Drew at the "Story Time from Space" program, students can read along with astronauts in space, participate in long-distance experiments, and learn more about science, technology, engineering, and math. This unique program will help teachers to better inspire the next generation of science learners, discoverers, and creators.
What might be some ideas you have for bringing the "Story Time from Space" program to your classroom? Please share in the comments section below.