Technology Integration
4 Free Web Tools for Student Portfolios
May 20, 2014
Updated May 2, 2014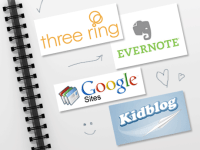 I still have every single project I ever completed in preschool. My dad collected them and kept each one in a grocery bag that he tucked away in the back of his closet. Looking through his collection now, there's nothing incredibly prodigious about the work that I created as a four-year-old boy. I see doodles, collages, coloring pages and awkward attempts at writing my own name. Nevertheless, the story that it tells is special to me.
This is the effect of good portfolios. They craft a narrative of learning, growth and achievement over time. Though mine was created by my perceptive father, often the best portfolios are those put together by students themselves. And as our focus in the classroom continues to move toward performance-based assessment, the following four web tools will help you and your students to compose narratives as memorable of their learning as my paper bag portfolio did of mine.
Kidblog
Kidblog is unique among the web tools featured here because it is built by teachers for teachers. Their website explains that their mission is "to empower teachers to embrace the benefits of the coming digital revolution in education." And as students continue to become creators rather than simply consumers, Kidblog provides teachers with everything they need to help students create their digital portfolios safely. It gives teachers administrative control over student blogs and accounts. Though Kidblog is private by default, teachers can choose to make posts public or password-protected so that parents can view their students' blogs, too. But whether or not they access their child's blog, Kidblog gives mom and dad peace of mind as it is fully COPPA compliant and does not require any personal information from students.
Google Sites
If your school is fueled by Google Apps for Education, then using Google Sites to create student portfolios, or "Googlios," makes perfect sense. With Sites, students can create media-rich websites to display their work throughout the school year. By starting with a template and a site structure in place, students are able to integrate their work with other Google apps to create a comprehensive story of what they have learned. This obviously means that such apps as Slides, Blogger and YouTube integrate seamlessly. And as long as your students and you have Google Apps for Education accounts, you, as the teacher, have administrative control over who sees student sites and how they are used.
Evernote
For classrooms with BYOD or 1:1 initiatives in place, Evernote can serve as a viable option for creating student portfolios. For those unfamiliar with the app, think of Evernote as the Swiss Army knife of organization. In other words, it does just about everything. As opposed to a blog or website, Evernote allows students to write, take photos, record audio, upload content and more with the ability to tag items, create notebooks for organization and share content socially. Something else that makes Evernote so versatile is that it can sync across multiple computers and mobile devices. While students may start cataloguing content into their Evernote portfolio with an iPad at school, they can continue working on their entry from a laptop at home and vice versa. Additionally, Evernote offers a variety of apps, including Skitch for annotations, that all work great together. However, unlike other options, Evernote doesn't give teachers any way to moderate its use by students. Then again, unlike the alternatives, Evernote isn't publicly viewable, either.
Three Ring
A mobile app with a desktop version, Three Ring is worthy of consideration as well. As with Evernote, students can create and upload content from their own devices and tag, search and share their portfolios. However, what Three Ring offers that Evernote doesn't is teacher-created class accounts. In other words, teachers initiate the use of Three Ring in the classroom by creating classrooms within the teacher account and adding students to each class. Students can then access their teacher-monitored account with a username and password provided. Whether from an iOS or Android device or from a desktop or laptop computer, content can be added by the teacher or student and commented on by both. Three Ring even allows parents to view their students' accounts once linked by the teacher.
Regardless of the platform you choose, empowering and authenticating your students' learning with digital portfolios is a decision that you won't regret. Through providing them with web-based space to collect their own work, you will be helping them practice digital citizenship while simultaneously helping them learn important technology skills. But perhaps more importantly, like my dad did for me over 20 years ago, by connecting your students with their own digital portfolios, you will be allowing them to compose a narrative that will not only inform your own assessment of student growth and achievement, but will leave a legacy of learning and who they have become years after leaving your classroom.