Project-Based Learning (PBL)
Weaving Debate into the Writing Process
Organized debates are an engaging way to help students discover, explore and organize ideas during the writing process. However, neither my teacher colleagues nor students share my enthusiasm. To find out why, I asked how they felt about using debate in the classroom. Here were their responses:
Students are too aggressive and rowdy to debate.
There is no time for preparation.
I don't know how to incorporate debates into the curriculum.
Debates are tedious and repetitive.
My opinions are never appreciated.
Debates are pointless.
Rethinking classroom debating might help both the aforementioned groups view this strategy as valuable.
Debate activities do not have to mirror the traditional debate protocol, where students stand on opposite sides of the classroom and formally argue about a particular point -- an exercise that students and teachers may find to be tedious. A more casual format can be far more engaging, like the ones below that are specifically tailored to support students during each stage of the writing process. The procedures are simple to explain and allow for students' opinions to be valued.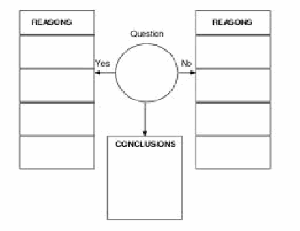 Credit: Krystal Billeck
Discussion Web
The purpose of a discussion web is "to provide the structure by which students engage texts and each other in thoughtful discussions, and to create a framework in which students explore texts and consider different sides of an issue in discussion before drawing conclusions." Discussion webs, usually completed individually, then in teams of two, then teams of four, allow students to practice their analytical and cooperative learning skills by agreeing on the most salient pros and cons. Here is one type of discussion web routine: after discussing the pros of cons of cell phone use in the classroom, students should be able to form a conclusion, with the pros and cons gathered from classmates serving as details to support their thesis in an essay.
Stage Two: Drafting
Activity: Pinwheel Strategy
The pinwheel exercise helps students with two major skills that are needed during the drafting process: making connections and citing textual evidence. Sarah Brown Wessling, the 2010 National Teacher of the Year, illustrates the use of the pinwheel technique in this video on The Teaching Channel. The exercise starts by placing students with similar arguments together in small groups. Discussion in the small group is followed by a whole group discussion. Drafting can take place after the pinwheel is complete and arguments have been developed.
Stage Three: Revising
Costa and Kallick (1993) define a critical friend as "a trusted person who asks provocative questions, provides data to be examined through another lens, and offers critique of a person's work as a friend." The most important duties for critical friends include raising questions, critiquing work, and nudging the learner to see an issue, product or artifact from different perspectives in order start revising based on quality feedback. The critical friend should feel comfortable challenging the ideas of the writer to ensure that the process is meaningful and engaging. The more students give and receive honest critique of their work, the more they will come to appreciate feedback.
Stage Four: Editing
Sentences on Trial
A sentence on trial is one of the most engaging debate activities that I have tried. Students start the exercise in groups two or more participants. Assign one student to be the "defendant" and the other group members to be the "prosecutors" of a sentence! Each prosecutor makes suggestions about words or sentences in an essay. Then students either agree or disagree about why the words or sentences earn their keep. The conversation may sound like this:
Stage Five: Publishing
Using Multiple Technology Tools
Publishing a finished piece of writing online using Glogster, Google Docs, Scribd, VoiceThread or SlideShare can be very motivating for students. Once work is posted online, pairs of students are assigned to debate the strengths and weaknesses of an essay, using a T-chart. These critiques motivate students to do their best work and provide them with abundant feedback towards their next essay.
The skills that students obtain while debating are applicable to every content area. For example, in math class, students can defend different methods for solving equations. Or discussion webs in social studies can help students generate ideas about the pros and cons of the Civil War. A debate is a meaningful conversation; debating is also a critical 21st century skill.