Education Trends
Virtual Schooling: Where Are We Now? Where Are We Headed?
I am a committed virtual learning advocate. As an experienced virtual teacher, I have seen students thrive where they'd previously failed. I have seen students who didn't have access to certain courses gain not only college entry requirements, but also innovative electives to support their passions. At the same time, I am also a thoughtful critic of virtual schooling. We have an opportunity to innovate with online learning; we also risk stepping into pitfalls of doing the "same ole thing." We run the risk of the "factory model," where we put as many students as possible through a course with a large student-to-teacher ratio. So where are we now? After many of years of experimentation and implementation of various models, what are some challenges that still remain?
Statistics of Virtual Schools
The International Association for K-12 Online Learning (iNACOL) continuously updates their statistics and facts about virtual school in the United States and worldwide. In their document of Fast Facts About Online Learning, some of these statistics highlight the growing prevalence of virtual school. For example, during the 2009-2010 school year, there were 1,816,400 enrollments in distance education. There are currently 27 state virtual schools, and full-time online schools in 31 states and Washington D.C. Florida alone had over 303,329 course enrollments during the 2011-12 school year, making it one of the largest schools in the world. Some of the top reasons for this rise in blended learning include course credit recovery and giving students access to otherwise-unavailable online learning opportunities. It's clear that virtual school is here to stay and will continue to become more prevalent.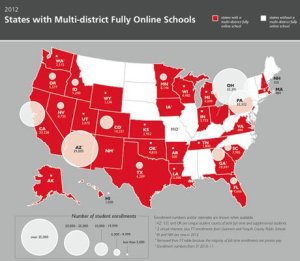 Credit: From 'Fast Facts of Online Learning,' iNACOL 2013
(Click to enlarge.)
Quality Online Courses
There are so many different providers of online courses, and some schools elect to create their own content to fit their model. But even then, the quality of instruction seems to vary. I've seen many online courses that look like the same "sit and get" structure with added multimedia attempting to conceal its quality. iNACOL has excellent standards that explain and can help evaluate not only rigorous courses, but also rigorous and effective online instruction. As more and more teachers are asked to teach in blended and online environments, it is critical that they're provided professional development and targets allowing them to teach this way effectively. Parallel to that, the courses must draw on effective pedagogical models and not replicate ineffective learning environments that don't meet the needs of all learners.
Misunderstanding of Blended Learning
Allison Powell, iNACOL's Vice President for State and District Services, says, "We are seeing/hearing more blended learning happening, but the majority of people who say they are doing blended learning are really just integrating technology into their classrooms." I too see this when I work with schools. Blended learning is not simple technology integration! At the same time, there are many implementation methods for blended learning, from the flipped classroom to the "A La Carte" model. The Clayton Christensen Institute (Formally Innosight Institute) has an excellent publication that explains and gives examples of the various models of blended learning. It is important that we venture down the path of blended learning, that we're actually doing blended learning, that we're clear in our model, and that we share common language.
Shift to Competency-Based Pathways
This is a major reframe of education. Instead of relying heavily on the Carnegie Unit, which requires seat time as an indicator of learning mastery, competency-based education focuses on mastery and competency as the critical piece of virtual school. It reframes grading and further personalizes instruction. We know some students take longer to learn and master material, just as some of our students take less time. Competency-based pathways honor this, seeking to advocate and build structures where this can work for students. However, with the Carnegie Unit still used as an assessment standard in many states, any newer model is a challenge to implement. To learn more about competency-based pathways, visit CompetencyWorks, an organization that dedicates itself to this reframe.
While it is clear that online and blended learning is becoming a norm for educators, it is also critical that we embrace this learning model with a demand for quality and innovation. We cannot replicate a broken system, and there are many challenges we need to overcome if we're going to ensure that we do not.