Family Engagement
Transition Resources for Parents, Teachers, and Administrators
Matt Davis has highlighted resources for parents, teachers, and administrators that can help students make the transition into elementary, middle, and high school -- and beyond.
May 16, 2013
Updated May 26, 2016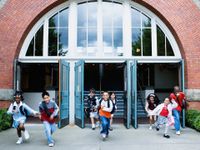 Photo credit: ©Gable Denims/500px
The end of the school year can be a nervous time for students, especially for those who will be making a major transition into elementary school, middle school, high school, or college in the fall. For these students, there are many curiosities and questions about academic rigor, managing a social life, handling coursework, and worries about using a combination lock. (It took me more than a couple of tries.)
Fortunately, there are plenty of resources on the web with useful information for all stakeholders -- parents, students, educators, and administrators -- to help support a successful transition to the next major stepping stone. Here are a few for each milestone in the K-12 pipeline and beyond.
The First Day of School: From Early Education to Elementary School
Lockers, Bell Schedules, and New Friends: Transitioning Into Middle School
The Leap Into High School
Off to College and the Workforce