Technology Integration
4 Ways to Tap Into Teens and Technology Leadership
Bring teens into their potential as tech leaders by providing them with resources and opportunities, helping them focus, and authentically engaging them.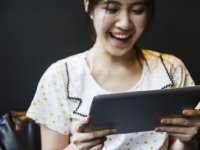 There may be a kernel of truth to the term "digital native" when it comes to children and technology. In its latest communication market report, Ofcom shares that the "peak age for digital understanding is 14-15," as reported by The Guardian.
The learning curve takes a precipitous dip after that, according to Ofcom.
If the optimal age for leading the way with digital innovation is 14-15, the question we should ask is: "Where are kids learning how to be digital innovators?"
The truth of the matter is that kids are learning on their own, with their peers, and in spaces where adults are out of the way.
Seeking Privacy and Community
For some time, we have known that kids are fleeing Facebook to get away from their nosy parents. MarketWatch reports:
Kids want their own digital playground, and it turns out they are learning a lot through play. And they are acquiring digital knowledge of how to manipulate, navigate, and use multiple devices and tools through trial and error and experimentation.
In her recent book It's Complicated, author and tech expert danah boyd posits that teens are seeking new spaces in the form of digital media because so many of the physical spaces, in the form of parks and malls, have been stripped away. MarketWatch shares:
Teens have nowhere to go, so they turn to digital media to create and cultivate their own communities. And, as Ofcom reports, teens are quite proficient!
Empowering Leaders
What are the implications of the Ofcom study for parents and schools?
1. Provide Resources
We all need to catch up -- and catch up soon. The San Jose Mercury News reports that at two California high schools, Northgate High in Walnut Creek and San Jose's Lincoln High, students had to resort to petitions to get their schools to offer Advanced Placement Computer Science. Schools need to listen to the students and come up with interesting and challenging ways to meet the interest and needs of teens in the area of technology and programming.
2. Provide Opportunities
We need to design and co-create learning experiences where authentic, real-world problem solving is at the core, and where students have to use technology to be able to solve these problems. STEM learning is central to this approach.
3. Assess Focus
We need to be nimble and flexible in our approach to working with teens and technology. If kids are off task in a class setting, we need to constantly ask ourselves if we are using technology as a way to deepen and enhance student learning, or if we are allowing technology to be available without a clear sense of purpose.
4. Constructively Engage
We need to view teens as -- and challenge them to become -- "the leaders of today, not tomorrow." If Ofcom is right that teens are at their peak for digital understanding at 14-15, we need to lean into that, and enlist these young minds in making the world a better place. There are a lot of problems that need solving, and a flood of fresh, passionate ideas could really add to the conversation.
What are ways that you have tapped into teens' knowledge of technology to improve the learning in your classroom or school?