Technology Integration
Teaching with Google+
Tailoring a new social media tool to your classroom
Google+, as you likely know, is Google's own foray into social media. As much the digital overlap of Google Search, Docs, Calendar, and Gmail software as it is a response to Facebook, Google+ has strong potential application in formal learning environment. First, a look at what makes Google+ tick.
Stream
This is like Facebook's News Feed, where the sharing happens. Updates, links and other media from the people you follow will show up here. Posts aren't "hidden," but are "muted."
Circles
This was a defining feature for Google+ when it was released -- a selling point that allows users to add people to different "circles" as a way of separating content, updates and the general mixing of different areas of your life. Whereas Facebook lumps everyone together in a single feed, Google+ streams allow you far more flexibility. Users are currently split regarding how well this works in application. Give it a shot and decide for yourself.
Hangouts
Like Skype, the awkwardly named Google+ Hangouts allow you to have an audio-only or audio-and-video conversation with other users -- and it's free of charge. The kicker here is in numbers. Whereas Skype limits users, Google+ Hangouts allow for up to 10 simultaneous users in a single room. Panel discussions with authors, university students or business leaders? Yes, please.
Hashtag Support and "@" messaging
In a nod to Twitter, using the "+" symbol allows you to notify other users that you've mentioned them in a post, and like Twitter it can also function as a public messaging system.
Most of the differences between Google+ and Facebook are a matter of branding: one company's "follow" is another company's "Add to Circles." In the end though, Google+ really functions a lot like Facebook and a bit like Twitter, only with (growing) integration into the entire Google ecology. And that's where the potential for education swells.
Beginning Classroom Integration
Of course, it is far more than a Facebook clone. Much of the public perception of Google uses Facebook as context. While comparative purposes are fine, many seemingly similar platforms are different in both nuance and function, and Google+ is no different. Resist the urge to "prefer Facebook," and consider the social media platforms for their diversity. Below are three stages of integration -- with examples -- to get you started.
1) Basic: Communication
The most basic way Google+ can function in your classroom is as an avenue of communication. While many teachers have long championed the blog for similar purposes, this is not a blog's sweet spot. Blogs are excellent platforms for publishing ideas, but two-way communication is crude, and they also lack the dynamic energy that makes "streams" of information so addictive. It is also more arduous to update blog content frequently. In this way, classroom teachers can use Google+ to communicate directly with learners, learner families or other educators. This communication can also be expanded to include review of specific content-area ideas as well. Clarifying current learning targets, reviewing recent concepts, delineating homework assignments or providing a public forum for learners to ask questions are other easy applications of Google+.
Tips
Publish test and due dates
Publish and clarify learning targets
Review complicated topics
Offer extension activities for Gifted Learners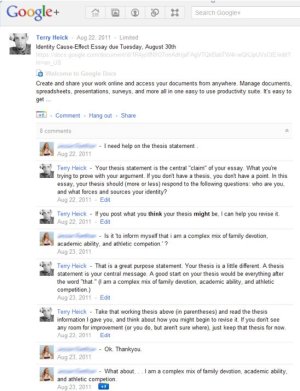 2) Intermediate: Project Management
With the growth of project-based learning, an online portal where users can all access the same documents, notes, research links and videos needn't require Moodle or other more formal learning platforms. Signing up for a Google account gives you access to the full portfolio of Google software. That means if you've got a Gmail account, you have access to Google Calendar, Google Docs and of course Google+. So consider setting up a circle for each:
Project (K-12+)
Content area (K-5)
Period/block (6-12)
Advanced content area (9-12+)
By doing so, you can use these circles as ways to manage projects: distribute rubrics, clarify due dates, share critical handouts or disseminate multimedia content. In fact, you can even verify who actually saw the documents by having them "+1" the link (Google's version of "like").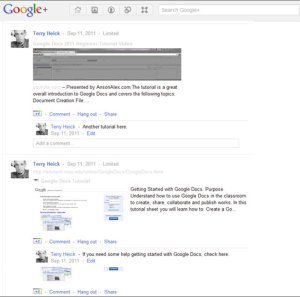 3) Advanced: Full Collaboration
Beyond basic communication or project management, one advanced strategy you can consider is to use Google+ as full-on project collaboration software. Rather than simply responding to parent inquiries or sharing documents, by functioning as a messaging, media and link-sharing platform visible to everyone, Google+ can act as a potent project management platform.
Tips
Learners can collaboratively brainstorm a problem
Writers can support one another through stages of the writing process
Groups can compete against one another through said "circles" in a public forum
Literature circles can be separated by role, first on pages, then in circles, so that all "Visualizers" can collaborate on a reading section before sharing with their groups. The same approach would also work for jig-sawing.
Closing Tips
Make sure learners are aware of safe Internet practices. Consider assigning learners numeric IDs and neutral (but self-selected) avatars to protect their online identity. Set ground rules for learners, and enforce them. Let them know what is visible, what is not and what your expectations are for this kind of transparency. Everything is documented online. Make up stories about past learners that have failed to heed this advice. Whatever it takes to convince the little skeptics.
1) Age Requirement
Note that Google continues to revise legal agreements and related issues. As of this article's publishing, users of Google+ have to be at least 13 years old. There are ways to deal with this if you'd like to use Google+ with younger learners, including parents signing up for access, or simply using a single class account while at school.
2) Access Issues
For those students without access to technology at home, groups can be assigned so that each member has a role, and those lacking home access are given a role they can fulfill, and then given access at school in a rotating system. While there are always challenges to implement any resource, the pros can outweigh the cons with a little planning and patience.
3) Expect Challenges
Consider the "implementation dip." When you first begin using something, it takes time to adjust to its intricacies. If you face challenges, reach out to your PLN at school or online -- or better yet, to the students themselves.
4) Listen to the students.
Time and again my students have surprised me with their creativity and problem-solving ability, especially if they think it's a problem that an adult can't solve.