Education Trends
Teachers Stuck on Pinterest
Teachers have a new obsession: Pinterest. With over 500,000 education pins pinned daily and 48.7 million users each month, Pinterest is fast becoming a go-to site for busy educators in search of lesson plans, book recommendations, classroom organization ideas and more.
Founded in 2009, Pinterest is a photo sharing website that allows teachers to create theme-based bulletin boards. Educators can manage and title their own boards. Teachers can browse collections of education-related photos and re-pin ideas for later use. Rachel McClure, a seventh grade teacher, says she likes Pinterest because "it's fast and easy, but you can find quality ideas. It's helped me incorporate more hands-on activities."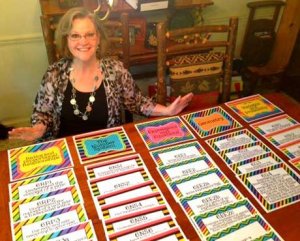 Credit: Kendra Jarvis
Cindy Dearman displays posters she found for her classroom using Pinterest.
Educators are using Pinterest from once a month to several times a week and collaborating with other educators around the world. Pinterest users borrow those ideas from each other and make them happen in their own classrooms. Deb Barron, a first grade teacher in Wake County, North Carolina, says, "Pinterest has helped me be more creative in the classroom, and the hands-on application in so many areas has led to higher achievement."
Many websites offer lesson plans, worksheets or other educational resources. The exciting difference with Pinterest is that it offers it all in one place. Cindy Dearman, a sixth grade math teacher in Asheville, North Carolina, praises Pinterest because "it allows me to enter the classrooms of teachers all over the nation."
With the help of Pinterest, here's a list of top K-12 education pins.
Grades K-2
Grades 3-5
"Teachers should help students learn skills and techniques and then incorporate them into a project," says Jessica Balsley founder of The Art of Education. With 3,000 pins, Teach Your Students to Paint Like an Impressionist provides step-by-step instructions on how to teach this lesson and offers the rationale behind it.
Robert Marzano says exit slips are one of the easiest ways to obtain information about students' current levels of understanding. Using Exit Slips in the Art Room highlights a middle school art classroom, how you can use exit slips as formative assessment, visuals of various exit tickets, real student responses, four different ways to use exit tickets, and eight different prompts from which to choose.
"Differentiated instruction is highly effective practice. Students learn more with it than without it," says Rick Wormeli, author of Fair Isn't Always Equal: Assessment and Grading in the Differentiated Classroom. How to Use Choice Boards to Differentiate Learning has over 3,000 re-pins and shares rationale on why choice boards are an important part of differentiated learning.
Grades 6-8
Are you struggling with finding innovative social studies ideas? Thought Bubbles on Famous Paintings is a fantastic way to assess if your students understand the great minds of historical powerhouses like George Washington or Teddy Roosevelt. The site gives you step-by-step instructions on how to place thought bubbles on the painting of your choice.
With budgets slashed and technology usage pushed, who doesn't need a list of 10 Free Websites for Kids? With 569 re-pins, this site lists age-appropriate fun and educational sites just for middle school students.
Carol Ann Tomlinson, author of Leading and Managing A Differentiated Classroom, says, "Anchor charts and activities are linked to the current unit of study and student learning expectation." Middle School Teacher to Literacy Coach: 5th-8th Grade Anchor Charts offers a plethora of literacy charts from which to choose.
Grades 9-12
Do you need a site to help you recommend engaging young adult books to your secondary students? Look no further than Dystopia-Palooza. Novels like The Scorpio Races by Maggie Stiefvater and fantasy author Jeff Sampson's Havoc will pull high school readers into their fantastic worlds!
Wondering what vocabulary high school freshmen need to know? 100 Words Every Freshman Needs to Know gives you a list of these essential words selected by the folks at American Heritage.
High school math can be challenging for even the smartest students. Add some hands-on learning by visiting Math Foldables. With 225 pins, teachers love this site full of pictures and links to help make math more engaging.