Professional Learning
Teacher Burnout: What Are the Warning Signs?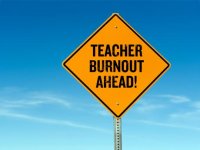 Research that helps us pinpoint the causes of burnout gives us guidance for how to avoid and combat it. In his landmark book, Beyond Burnout (Routledge), Cary Cherniss used intensive case study research to identify factors most likely to lead to teacher burnout:
Lack of adequate preparation for dealing with the kinds of learning and behavior problems that teachers face in the classroom. Teachers who feel a sense of accomplishment don't burnout.
Lack of autonomy Teachers think of themselves as professionals, and they resent interference from administrators, parents, board members, and others who usually have little idea about what it's like to teach today.
Difficult student behavior This factor is related to the first one. Students who lack the ability and/or motivation to learn what the teacher is trying to teach them make it impossible for teachers to achieve that sense of accomplishment that is so important for any professional. Relatedly, burnout can be avoided as teachers develop classroom management skills and supports when they do face difficult behaviors.
Lack of support and interpersonal conflict Teaching can be a lonely profession. Lack of opportunity to engage in meaningful exchanges of ideas with other teachers contributes to burnout, as does conflict with parents, administrators, and students. One of the main benefits of meaningful professional learning communities is to provide just this kind of support. Also, faculty and grade level meetings can be better used to foster connection and mutual problem solving.
Boredom Given how stressful teaching is, this last factor may seem surprising. However, many teachers find that after a year or two in the classroom, each day is very much like the next, and there are few opportunities for doing new and interesting things. One of the main sources of rebellion against test-centered pedagogy is its routinization. Differentiated instruction and personalization are two movements that recognize teachers need to be in a creative mind-set to be most energized.
Reconnect with Purpose
Another factor that I have found important is to help teachers reconnect with the reasons why they went into education and identify, preserve, and expand those parts of their work day that are consonant with those reasons. Unless educators are clear about their purposes, they are more likely to fall into using techniques that they don't believe in because there does not seem to be any alternative. The combination of purpose and technique helps teachers to avoid and return from burnout.
Look Out for the Warning Signs
But how do you know for sure if you are slipping into it, or already there? Christina Maslach has done some very helpful research; it's been captured in a "popularist" way where you can take a self-test to see, roughly, where you might stand. Knowing there is a problem is often the first step in addressing some of the issues noted earlier (and toward beginning to find solutions).
Here are some of the most important indicators of burnout. Ask yourself whether you experience them Not at all, Rarely, Sometimes, Often, or Very often:
Do you feel run down and drained of physical or emotional energy?
Do you find that you are prone to negative thinking about your job?
Do you find that you are harder and less sympathetic with people than perhaps they deserve?
Do you find yourself getting easily irritated by small problems, or by your co-workers and team?
Do you feel misunderstood or unappreciated by your co-workers?
Do you feel that you have no one to talk to?
Do you feel under an unpleasant level of pressure to succeed?
Do you feel that you are not getting what you want out of your job?
Do you feel that you are in the wrong organization or the wrong profession?
Are you becoming frustrated with parts of your job?
Do you feel that organizational politics or bureaucracy frustrate your ability to do a good job?
The self-test and these questions may be intuitively useful, but this has not been validated through controlled studies and therefore should not be used as a formal diagnostic technique. Please, therefore, interpret the results with common sense. The Maslach Burnout Inventory is a tool that may be used for a more validated assessment.
The Culture and Climate of the School Matter
Teacher burnout is most often an organizational problem and it is insidious because it can remove dedicated teachers from the field of education, sometimes even before they physically leave their jobs. Its solution is found most often in creating a positive, supportive school culture and climate, where teachers are treated as professionals and given the opportunity to collaborate, problem solve, and get needed, reasonable supports in timely ways.
It is not a matter of teachers becoming superhuman and overcoming all horrible conditions and indignities trying to succeed in doing what is virtually impossible, especially in a sustained way. The students need their teachers to stay engaged and fight for them. When the conditions of teaching are bad, the conditions of learning tend to be worse, and children suffer in lasting ways. That's why the collateral damage of burned-out teachers is burned-up children.