Professional Learning
A Day in the Life of Teachers
We gave several teachers GoPro cameras so we could watch a day unfold.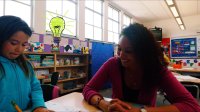 Every day, you go boldly into your classrooms and face a room full of expectant kids. Or bored ones, or nervous ones, or hungry ones, or excited ones. You must find a way, for those few precious hours, to be their guide, their entertainment, their support, their leader. Wherever you are coming from, wherever they are coming from, you must meet in the middle and make magic happen, because you are an educator -- driven by the belief that you can make a difference in the life of a young person.
Here's to you for dealing with meltdowns; for celebrating small victories. Here's to you for coming in early and staying late; for giving your all for your students, so that the magic of learning can be sparked in their hearts. Here's to you for bringing love to every kid's life. In honor of National Teacher Day -- and every day -- Edutopia salutes you!