Education Trends
Thanks to All Teachers
Executive Director Cindy Johanson shares Edutopia's appreciation for teachers.
Let me - and every one of us at Edutopia - be among the first to say "thank you" on Teacher Appreciation Day. We hope it's something you'll hear a lot today, and every day.
Ever since George Lucas founded Edutopia twenty years ago, appreciating and supporting outstanding educators has been precisely what we strive to do 365 days a year. While today is special - no doubt - it all comes back to providing you - our community - with proven strategies, connections, and resources that help you bring the best to your school or district whenever you need it.
There's a lot to be proud of as we mark our twentieth anniversary - and I can't think of a better time to brag about you (and our wonderful staff!) than today, on Teacher Appreciation Day.
What about you, though? What are you most proud of on Teacher Appreciation Day? Is there a specific educator from your past, or a current colleague that you'd like to thank today?
Head on over to our Teacher Appreciation discussion and connect with others from across the country and around the world today -- and be sure to come back, often since appreciating and supporting great teachers is something we're committed to doing year round.
Thanks for everything you've done and will continue to do to improve education. You are a valued member of the growing movement of Edutopia change-makers, and we are honored to work alongside you as we improve education together.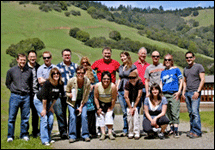 Cindy Johanson
and all of us at Edutopia
The George Lucas Educational Foundation
P.S.: We're giving away an iPad2 in celebration of Teacher Appreciation Week. Enter for a chance to win by Sunday, May 15th, 2011.
We're changing education: A whopping 93% of Edutopia members like you have implemented innovations in your schools and districts, and 91% report that Edutopia played a role in these reforms. (2011 Edutopia Survey, Harvey Research, Inc.)
We're learning from Schools that Work: By tapping into our community, we're showing how successes from one school or district can be applied to almost any school or district. With video-rich resources, vibrant discussions, and case-studies, we go beyond "what's" possible and demonstrate "how" it's possible.
We're sharing real-world strategies and tips: Our slogan, "What Works in Education," strives to bring you solid research, not opinion or preference. We are committed to keeping you informed of cutting-edge research and knowledge of how people learn best and which school designs are most effective through our popular blog series, our big thinkers in education, and features in our newsletter.
We're making it easier to collaborate and make a difference: Each month, about half a million people connect to Edutopia community, and whether from our bloggers, community facilitators, or our active community members like you, we learn from each other. On our site, on Facebook, or on Twitter, we're facilitating conversations between people who are passionate about improving education - and the possibilities that come out of that are boundless.