Social & Emotional Learning (SEL)
Teach Empathy With Digital Immigration Stories
Create empathic moments in the classroom with a safe, welcoming environment for students to tell their family's immigration stories through the modalities of digital storytelling.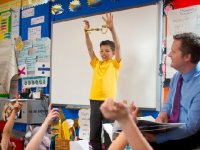 How important is integrating empathy instruction into the curriculum? Essential. As Edutopia blogger Elena Aguilar wrote recently, "There's enough evidence in our world today that we need to intentionally cultivate empathy." As I've suggested in a previous post, welcoming immigrant students into the classroom is important, given that we are a nation of immigrants. These occasions can also be an opportunity to foster empathy.
The Connections Between Digital Storytelling, Immigration, and Empathy
Straddling cultures and beginning with ancient oral traditions, telling stories is an innately human experience that connects us with others and creates a sense of belonging. Hearing another person's perspective is also a key component of empathy. Finally, writing family immigration stories -- no matter how distant or recent -- helps students read, reflect upon, and empathize with the common threads and variations of American narratives.
Using digital storytelling to capture immigration stories is a powerful way for teachers to create opportunities for empathetic moments among students. Digital storytelling builds writing skills, targets multiple learning styles, and authentically engages learners as they connect to diverse peoples' histories. Watch how the addition of images and sound help to more fully realize another person's immigration experience in the following video, based on a poem written by a fifth grade student about her grandfather's immigration from China to the U.S.
video
Establish a Culture of Listening and Respect
Sharing their immigration story can be especially important for recently immigrated students who are trying to adapt to a new life in the U.S. while maintaining ties to their home country. Jill Pettegrew, a community mental health agency intern who serves many immigrant children and families, says:
Pettegrew advises teachers "to work closely with immigrant students as they craft their stories for presentation, and prevent the retelling of traumatizing events." If stories of trauma emerge during the creative process, she suggests that educators refer these students to counseling.
Build a classroom community that respects and listens before introducing an immigration story project, so that students don't feel excluded or ashamed. A former undocumented student, now a U.S. citizen, shared a decidedly "unempathetic" moment that occurred during a well-intentioned third grade family history project. When creating posters about their family history, she and one other student realized they were the only children who had recently immigrated. "Everyone else was from America," she recalled. "I dreaded it." Luckily, the other student presented first and was so proud of her cultural heritage that it "empowered me to do the same."
Create Empathetic Moments by Modeling, Conferencing, and Sharing
Teachers can share their own family immigration stories, thereby taking that vulnerable first step. Even better, they can write alongside students, modeling inquiry, drafting, and editing. Brian Kelley, an eighth grade teacher, uses this method with his students and blogs about his process in the classroom. He describes his discoveries and provides frequent opportunities for peer and teacher conferences. Kelley says he finds that "empathy arises when students linger to share something with me one on one, in written drafts as they develop their thinking, and during conferencing." Learners are also encouraged to talk at home, bring in artifacts, and -- of course -- more stories. "By writing about family heritage and immigration with my students," Kelley says, "my chain of empathy is available for students to connect with and learn from."
Some educators may find it difficult to produce evidence of empathy development. You know it when you see it, or more importantly, when you feel it. One student in Kelley's classroom wrote:
Students cultivate empathy by sharing, listening, and connecting to others' immigration stories. Consider viewing finished digital stories by inviting family and community members to a movie night, or by hosting a gallery walk and listening tour in your school. Other step-by-step customizable plans, how-tos, and opportunities to collaborate with other classrooms can be found at the American Immigration Council's Crossing Borders with Digital Storytelling.
Please share other ways to support and share students' digital stories on immigration and create empathetic moments.