Mental Health
Supporting Grieving Students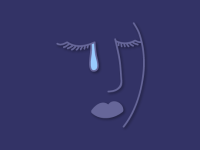 Ninety-two percent of educators (teachers, counselors, and other staff) say that childhood grief is a serious problem that deserves more attention in schools, according to a 2012 survey from the American Federation of Teachers and New York Life Foundation.
In that survey, nearly 70 percent of classroom teachers reported having at least one student in their class (or classes) who has lost a parent, guardian, sibling, or close friend in the past year. An even greater number had interactions with students who have had such a loss at some point in their lives.
Yet just 43 percent agree that they have the basic skills they need to support grieving students. When those skills are lacking, the most frequently cited factor was insufficient training or professional development. Ninety-three percent of classroom teachers say they've never received bereavement training but they desire it. There should be a greater focus on training educators to support grieving students, according to 89 percent of the surveyed teachers.
Resources
The Coalition to Support Grieving Students, which is made up of leading professional organizations representing K-12 education practitioners (including teachers, principals, administrators, school counselors, and others), The New York Life Foundation, and the National Center for School Crisis and Bereavement, is looking to help. Their recently launched website, Grief Support Modules for School Personnel, is intended to facilitate self-directed professional development and provide educators with practical advice to better understand and meet the needs of grieving students.
The site includes resources designed to help educators in a number of ways, with background information and insights on issues ranging from developmental and cultural considerations surrounding death to reactions and triggers. For example, there are resources for helping educators understand what a grief trigger is, how to support a child experiencing one, and how to anticipate and minimize them in the future. In addition, the site addresses practical considerations, such as advising families on children's participation in funeral activities, developing relevant school policies regarding funeral attendance, and supporting students (and families) during transitions.
Talking with Grieving Students
Perhaps one of the most important resources the coalition offers is a module on conversation and support, which provides strategies for talking with grieving students.
Educators are often worried that they will upset students by talking with them about their loss, or that they will make things worse by doing so, so they may choose not to engage in these difficult conversations. However, as the coalition points out, saying nothing communicates a great deal to children -- that you may be insensitive to their needs (not realizing that they are confused and struggling), uncaring about this important event in their lives, disapproving of conversations around death, and other negative messages.
So it is important that educators reach out to grieving students, particularly those educators who already have a trusting relationship with them. The coalition offers a number of practical tips to help start a conversation with a grieving student, including:
Express concern. Let the student know you've heard about the loss and are available to listen and offer support.
Invite the conversation. Use simple, direct, and open-ended questions such as, "How are you and your family doing?"
Listen and observe. Talk less and listen more, and share observations about the student's behavior or responses in a nonjudgmental manner.
Limit personal sharing. While you can draw from personal experiences to help you better understand what the student is going through, you do not have to share them. Keep the focus on the student.
Offer reassurance. Without minimizing her emotions, let the student know that over time, she will be better able to cope with her distress and that you will be there for support.
Maintain contact. The student may not immediately accept an invitation to talk, or he may have questions that evolve over time, so remain accessible, concerned, and connected.
What Not to Say
The coalition recognizes educators' concerns that they may say the wrong thing to a student in grief. Many common and well-intentioned statements are not helpful to grieving children and their families. The coalition also offers advice on what not to say to those who have recently experienced a loss. For example, don't say:
"I know just what you are going through." Everyone experiences grief differently. Instead, ask, "Can you tell me more about what this has been like for you?"
"You must be incredibly angry." Rather than tell someone how she should be feeling, say something like, "Most people have strong feelings when something like this happens to them. What has this been like for you?"
"At least he's no longer in pain." Any statement that begins with "at least" should be reconsidered, as efforts to focus on the good can minimize the student's (or family's) experience. Instead, ask, "What sorts of things have you been thinking about since he died?"
And in the end, though the conversations can be uncomfortable, it is important to remember that grieving children and families hear the expression of concern more than the exact words used. Simply being open and available to a grieving student -- in both the immediate aftermath of a loss and in the months and years that follow -- can be a powerful support.
What are your thoughts and ideas on this post? Please share in the comments section below.