Student Engagement
Using Superhero Comics to Teach English and History
It's high time for more English and history teachers to set aside their literary purism, and to embrace superhero comics as effective and legitimate teaching and learning tools.
Superman Stands in for Hamlet
In Kingdom Come by Mark Waid and Alex Ross, an aging and embittered Superman, distraught over a hero-villain conflict that results in the irradiation of much of the Midwest, is coaxed out of retirement by Wonder Woman.
"Kal, please. Our generation takes its lead from you. We always have," she says, using the Man of Steel's Kryptonian birth name to add an extra sense of urgency. Even Superman has lost all hope in the wake of millions dead, and he urges the Amazon princess to go back to her island, where she's safe.
A much different Superman eventually returns, and it's not long before he and his reassembled team, the once-famous Justice League, also use intimidation, threats, incarceration, and even murder to ensure world peace by any means necessary.
Waid and Ross' graphic novel does a brilliant job of deconstructing the traditional hero-villain archetype, and beautiful imagery elucidates strong themes of revenge, redemption and salvation. The writing is crisp, realistic and heartfelt, and any English teacher would be foolish to ignore this work as childish and irrelevant. In fact, I dare say Kingdom Come does just as good a job as Shakespeare's Hamlet -- if not better -- of not only teaching today's students about plot development and a host of other literary devices, but also about right and wrong, imperfection, and the human condition.
After all, if Superman has tragic flaws, we all have tragic flaws.
Man of Steel as Man of His Times
Seven years ago, as a rookie teacher at Brimmer and May, a terrific independent school in Massachusetts, I assigned Kingdom Come to two seniors working on an independent study titled "Superheroes: Understanding America and the Human Condition." I have never seen students so enthralled in their work, or as eager to discuss their observations with each other and me.
They soon grew interested in learning about the history of Superman and the character's creators. Dan, a Jewish student, stumbled upon Danny Fingeroth's marvelous book, Disguised as Clark Kent: Jews, Comics, and the Creation of the Superhero.
Dan gave me his copy, in which he placed stars next to a critically important passage. Fingeroth cites a famous 1975 press release from Superman co-creator Jerry Siegel, himself a Jew and the son of Lithuanian immigrants.
I remember Dan coming up to me, saying that Siegel's father died of a heart attack -- likely brought on by the stress of an armed robbery. Whatever the exact details, Dan told me, Siegel's loss undoubtedly shaped the character who, in 1938, graced the cover of Action Comics #1. In that issue, Superman fights political corruption and wife-beaters, also saving a damsel in distress.
Superman represented a mythical hero that countless immigrants, victims and other downtrodden people clamored for during one of America's most trying times. I think we still clamor for it, especially as we eye our own uncertain future. But by studying Superman's early adventures, and treating comics as precious primary documents, readers ascertain a deeper, more relatable understanding of history. I have Dan to thank for reminding me of that fact.
The Times They Are A-Changin'
In my United States history class, I usually assign the first few issues of Uncanny X-Men, first published by Marvel Comics in 1963. Created by a legendary dream team, Jack Kirby and Stan Lee, no storyline does a better job of highlighting and helping kids relate to and recognize discrimination and intolerance that plagued the era.
To get students excited about this unit, I also assign Tales of Suspense #39, from 1963, which features Iron Man's first appearance. In the story, a Communist leader in Vietnam captures famous American weapons manufacturer Tony Stark. Using his ingenuity, Stark creates highly advanced armor and turns himself into the Iron Man to escape. Iron Man is another Stan Lee creation, and this origin story encapsulates the innovative and enduring American spirit.
Taking the Sting Out of Plot Development
For a project, Dan and his partner, Neil, decided to create their own 40-page single-shot comic, When Scorpions Attack. At its core, this story spoofs the more serious superhero genre. Highly advanced, giant-sized scorpions attack earth, upset at how humanity mistreats their much smaller-sized counterparts. I watched Dan and Neil spend hours storyboarding their plot, as I helped them tweak dialogue to sync with their creative artwork. In gratitude, they even gave me my own cameo appearance, as I'm seen here saving their characters' lives.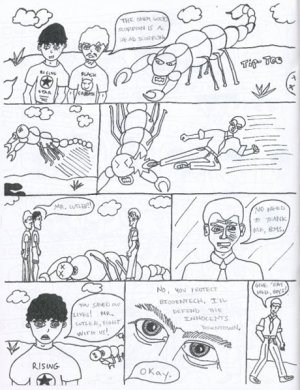 Credit: Dan & Neil
David Cutler's cameo in When Scorpions Attack
When they had finished, two things were certain. One, they could write well. And two, they could tell one heck of a story.
Have you found educational uses for comics in your classroom? Please share your own thrilling adventures in the comments section below.