Professional Learning
Make the Most of your Summer with our Free Guide!
Summer is in full bloom, and we hope you are enjoying the change of pace. While you spend your time soaking up the long, warm days and the cool, breezy evenings, please remember to take a peek at our free Summer Rejuvenation Guide, which offers ten great tips to help you relax, reflect, and recharge.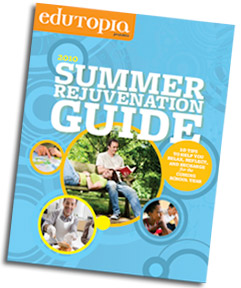 More than 20,000 educators have already downloaded and shared this guide. Here's what some of them have said about it:
"Thank you for providing this awesome and supportive resource for educators!!!"
"I appreciate the excellent resources you have and share with us!"
"Thanks again and know it will be used to its utmost to enhance and guide my summer adventure."
As you ponder the next few weeks of summer and as thoughts of fall, bell schedules, and new students start to sneak back into your mind, take advantage of our Summer Rejuvenation Guide. It's sure to provide you with great inspiration and to give you new tools and project ideas that will help you prepare for the coming school year. And please share it with your friends and colleagues on Facebook and Twitter.
Enjoy your Summer!
--
Sabrina Smith
, Director of Communications