Environmental Education
Student Innovators Take Local Action on Global Climate Challenge
See what happens when a group of high school students pitch energy-saving proposals to a panel of entrepreneurs, professors, and sustainability experts.
The culmination of a project, when students make their learning public, is a major milestone in any project-based learning experience. When students explain and defend their solutions to an audience, they're challenged to communicate clearly, think on their feet, and overcome the jitters.
The stakes were higher than usual at a recent exhibition in Cambridge, Mass., when 30 teams from Cambridge Rindge and Latin High School pitched carefully researched, energy-saving proposals to a panel of entrepreneurs, professors, and sustainability experts. This wasn't a simulation. The top five teams would each receive seed funding -- plus paid summer internships with the City of Cambridge -- to move their plans toward action. Two teams also would go on to represent their community at an international student leadership summit in Iceland.
"I really felt like an entrepreneur," says Diego Lasarte, whose team earned a coveted finalist spot in the EF Glocal Challenge for its plan to reduce energy use in low-income housing. "Judges took our proposal seriously. They asked detailed questions. They talked to us as if we had something they wanted. That's not something we get to experience often in school."
Principal Damon Smith says the learning experience is "a high-wire act. It pus students in an intense opportunity to work on a global issue at the local level." What's more, adds Smith, "this project forces students to learn a lot quickly, articulate their positions, and convince some heavy-hitters that their ideas have value. The more kids get those real-world experiences, the better."
Fine-Tuning a Good Idea
Cambridge Rindge and Latin, a public high school, partners on the Glocal Challenge with EF Education First and the City of Cambridge. Since the challenge launched four years ago, it has evolved to engage a more diverse group of students, develop students' problem-solving skills, and expand opportunities for them to put their ideas into action. The growth of the program shows how PBL gets better through iteration and fine-tuning.
A major shift this year was moving the challenge from after school into the regular school day for the eight weeks of structured team meetings and design thinking sessions led by outside experts. "We didn't want students to have to choose between doing Glocal and their jobs, sports, or other after-school commitments," says Shawna Sullivan of EF.
"What students gain from those [Glocal] meet-ups is just as important as what they're getting in regular classes," adds Smith. He relied on his teachers to figure out the scheduling challenges, "and they made it work."
In another program tweak, Glocal organizers took care this year to balance teams "to maximize everyone's strengths," says Sullivan. When students signed up in the fall, they identified their own strengths and were invited to pick no more than one team partner. Organizers used that information to assign teams "so that all 30 teams were designed to win," says Sullivan.
"All our skills were different, and that was a good thing," says Bouchra Benghomari. Like Lasarte, she's a member of Team AHEEP (Affordable Housing Energy Efficiency Project). Students plan to work with Cambridge Housing Authority and a program called Mass Save to deliver energy efficiency kits to residents of the city's affordable housing properties. The kits, equipped with energy-saving tools such as low-flow water faucets and NEST thermostats, could help a family save as much as $600 per year in energy costs. "We're all passionate about the idea," adds Benghomari.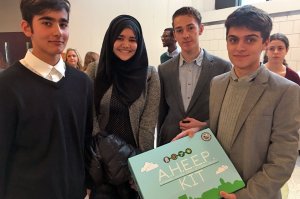 Photos courtesy of EF Education First
Expert Insights
Power Saviors, another finalist team, is focusing on increasing energy efficiency of the school building itself. Students plan to install floor tiles that capture kinetic energy. "This could save the school money. When kids walk through the halls, they'll be generating clean energy," explains team member Hassan Gudal, who brings an interest in engineering to the project.
Students' research involved interviewing a tile manufacturer in London and investigating other applications of the idea. Convinced they were onto something, they sat down with their principal to make sure the plan could go forward. He had some hard questions but was open to the concept. "To have him talk through the pros and cons convinced us to keep going," says Gudal. At final exhibition night, Power Saviors won the popular vote from the audience, as well as a top rating from the judges.
From Thinking to Doing
One of the attractions of the Glocal Challenge "is to be part of real, immediate change," says Lasarte of Team AHEEP. "This seems like a clear way to actually do something instead of just thinking and talking." Students saw the value of locally focused action to address issues unfolding on the world stage, such as the Paris climate summit.
In the months ahead, students from the five Glocal finalist teams will work closely with the City of Cambridge to implement their prototype ideas. In fact, students' projects will become part of the city's application for the $5 million Georgetown University Energy Prize, a civic competition to reduce municipal and residential energy use.
"We want to show students that we do care about their ideas," says Jennifer Lawrence, sustainability planner for the Community Development Department in Cambridge. "We want to take as many of these ideas as possible and implement them."
The city has invested $75,000 to cover paid summer internships for the students, seed funding, and staff time to manage the project. "Students will learn how to take a proposal for a big, powerful idea and make it actionable, do-able," says Lawrence. Working with mentors, students will be responsible for meeting deadlines and submitting deliverables.
"They're not just learning about energy," says Sullivan. "These students are building confidence, learning to communicate in a professional way. Those are important skills they'll take with them as they go on to college and careers, and engage as citizens."
To prepare students for their summer experience, EF will provide a series of learning experiences throughout the coming months, including an accelerator program with energy experts and innovators modeled on the Hult Prize. Members of Team AHEEP and Project Savior will travel to Iceland in March for EF's Global Student Leaders Summit, focusing this year on the future of energy.
After four years of helping to develop the school-community partnership, Cambridge Rindge and Latin teacher Marya Wegman has become a champion of this real-world learning experience. "This is the biggest and most holistic chance we have to do project-based learning," she says. "It allows students to make contributions to the world." In return, she adds, "our city gets to see the incredible things these kids are really capable of. That's rare."
Watch for updates in the months ahead as Glocal Challenge finalists start to put their ideas into action.