New Teachers
3 Ways of Getting Student Feedback to Improve Your Teaching
June 10, 2014
Updated July 21, 2015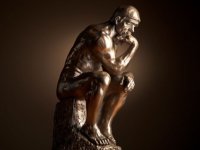 During the summer, you'll want to improve your teaching and lessons, but how do you decide where to start? Your students! I use these three ways to get feedback from my students on my lessons, activities, and what I can do to improve next year.
Collecting Input
First, I'm trying to identify my awful lessons or units so that I can rework them over the summer. For example, I set as a goal to take the most boring lesson or unit from one year and making it epic next year. Last year's most boring lesson, my PSAT prep unit, came back from the dead this year when I dressed as a zombie and created World War Z-themed zombie prep. (I think an awesome teacher can make any content cool and interesting.)
Second, I want to understand firsthand what kids love and what they hate. They need to watch me level up from year to year, because they have to level up, too. I'd like to share how I gather that information.
1. End-of-Year Focus Groups
I end the year with students in a circle. I turn on the audio recorder in Evernote to capture the conversation, which goes something like this.
My final purpose is a quick review of what we've learned. You can feel as if you've done nothing the whole year when you're tired on the last day. I want them to leave me with their impression of the whole year in their mind so they (and I) are positive about the effort we've put in since September.
2. End-of-Year Survey
I do an anonymous end-of-year survey as well (particularly if a class was reticent in the focus group time). You could adapt this and send it to parents for feedback. I do this in Google Forms and like to use open-ended answers for several of the questions.
This survey is more focused on finding the things I may need to improve in a personal way, because kids may not want to say those things in front of their peers. Questions might include:
Is there something you wish I knew about this class that would make me a better teacher?
Is there a habit I need to work on improving to be a better teacher in the future?
Is there something you wish that you could have told me this year?
Is there anything good you'd like to leave as an encouragement to me?
Name one small thing I can do to be an amazing teacher.
Instead of getting bogged down in the details, I'll take the answers and paste each one into a text file. Then, I'll paste them in Wordle to see trends. If I need to read each answer, I will, but I usually wait until summer when I'm more rested.
3. Anonymous Notes
I always make a point to tell every student that they can type or write their feedback and put it on my desk any time. I suggest that you invite anonymous notes, because sometimes students want to tell you important things but don't want to be a "snitch." That's why the last day of the year is the best time for this type of note -- no repercussions and total honesty. One year, I found out that some kids had been dishonest, and the next year I changed how I administered a certain test to end cheating.
Just keep anonymous notes in perspective. I have received one from an angry student. It was vitriolic! These things happen. Learn from it if you can even if it is to know that many kids are angry. Hurting people hurt people but I'm still glad they can give me feedback.
Why You Must Reflect and Improve
Students are what we do. They are the center of our classroom, not us. However, as a teacher, I am the most impactful single person in the classroom. Honest feedback from our students will help me level up.
I've been doing this for more than ten years. Sometimes I laugh, sometimes I cry -- and sometimes I'm mortified. But I can honestly say that every single piece of feedback I've received has made me a better teacher. And great teachers are never afraid of having or inviting hard conversations. This is one of best practices that has helped me to be a better, more excited teacher every year.