Media Literacy
Social Media at School: Teaching Safety on the Virtual Playground
Responsible digital citizens emerge from schools where students are taught about the rules, risks, and trust involved in the safe, respectful use of social media.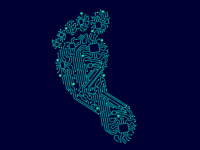 These days, social media gets a pretty bad rap. It seems like every other day there is a celebrity apology or a story about a teen who commits suicide due to cyberbullying. It's true, social media can breed some pretty awful stuff. And that awful stuff is great material for the digital citizenship unit that all of my school's incoming freshmen are expected to complete.
Acceptable Use
Our school is unique in Philadelphia in that it's one of the few public schools with a 1:1 program that allows students to take devices home. We give our students access to the world, and with that access comes a lot of responsibility. As such, it's vital that, from the beginning, we prepare students to use caution and be thoughtful when using their laptops.
Let's face it -- teenagers are on social media in school and out of school, even if their parents have told them they can't be, and even if the school has rules about being on phones during school hours. I always use the playground analogy when it comes to the internet and social media. We let our kids go to the playground knowing that they may encounter bullies there, or that they could fall and get hurt. We teach them how to climb, we help them when they fall or hurt themslves, and we instruct them about how to handle the bullies they may run into. Social media is the playground of this generation. They still need our guidance and help.
In my class, we start the year with the book, lol. . .OMG by Matt Ivester. I read chapters out loud to the kids, and we discuss the stories and content of each chapter. Students learn about how their digital footprint affects their job and college opportunities, about what cyberbullying is and how it affects people, about IP addresses and posting anonymously, and many other important topics. I supplement our readings with current articles from the news as well as a short group project about the rights and responsibilities of digital citizens. While reading the book, we also review our school and our district's acceptable use policy, reading it out loud, word for word, while discussing what each aspect of the policy means. Our freshmen do not receive their laptops until October, giving them time to review these policies and have meaningful discussions about responsible use of technology before they get their machines.
Always Learning
It is through these discussions that I learn about how students use social media, what their experiences have been, and what their beliefs are. I have also witnessed many students begin to reflect on their own social media use and the way that they interact with others online. We still have blunders that occur when students make poor choices despite everything we've discussed, but these discussions make it easier to put these poor choices into context. I can refer back to articles we've read, discussions we've had, and the ways that similar choices have affected real people.
Since our students have built such a deep understanding of their digital footprint and their digital identity as well as the responsibilities that come with using social media, our teachers feel more comfortable using social media in the classroom. For instance, our Spanish teacher had students create Vine videos to act out scenes in Spanish. In addition, students in my tech class created posters about digital citizenship and shared them on our website.
Schools and teachers don't have to be afraid of social media if they take the time to teach kids how to play on this virtual playground responsibly, ethically, and safely.