Media Literacy
Schoolwide Twitter Chats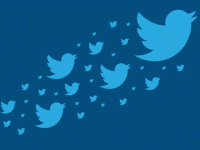 Have you ever had a student say to you, "Wow, this is so much fun, do we have to stop?" This is the kind of excitement that children have shared with teachers after participating in the New Zealand school-wide Twitter chat called Kidsedchatnz.
The Kidsedchatnz idea was born out of numerous worldwide Twitter chats for educators. If educators could use Twitter to connect, collaborate, share, and learn, then why couldn't students?
So What Exactly Is Kidsedchatnz and How Does It Work?
Kidsedchatnz is a weekly Twitter chat between New Zealand classes and students, every Thursday at 2:00-3:00PM. It is organised by seven New Zealand teachers via Twitter, each taking a turn to run the chats.
Each week, a topic is chosen, and 5-10 discussion questions are generated on that topic. All topics and questions are posted on the Kidsedchatnz blog prior to the chat so that students can prepare beforehand. The teacher in charge is responsible for picking the topics, generating the questions and moderating the chats on the day. Moderating involves posting the questions and encouraging conversation between the students.
During the weekly session, questions are posted every 5-10 minutes on Twitter for the students to discuss and respond to. Some of the topics covered so far have been:
Literacy
Maths
Technology
Digital citizenship
Teachers
Education outside the classroom
Rules
Courage
Culture
Learning
Homework
Modern Learning Environments
Football World Cup
Elections and Student Issues
Passions and Talents
Sports
Hack Your Learning
Inquiry Learning
Chat topics are quite often flipped. This is where the questions are based on material that the students have to read or watch prior to the chat. Anywhere between 20 and 30 classes participate in Kidsedchatnz each week, with anywhere between 500-1,000 tweets being recorded each session. After each Kidsedchatnz session, a "Tweet of the Week" is announced for the best tweet during that session. This encourages the students to produce quality tweets.
Kidsedchatnz has been running since September 2012 and has seen children from all over New Zealand connect and share ideas. The excitement at connecting with others has been infectious. Abby, a Year Three student at Russell Street School, says, "Kidsedchatnz is my favourite hour of the week! I love putting my ideas out there for everyone to see."
Kidsedchatnz has also gained national recognition in New Zealand by winning the Interface Magazine Awards for Best Teaching with ICT. This year we had our first Trans-Tasman Kidsedchatnz between New Zealand and Australia. The chat was based on ANZAC Day, which is celebrated on both sides of the Tasman.
So Why Should You Take Part in the Twitter Chats?
These chats give students an authentic audience for sharing and reflecting on their learning. They connect with other classes and students throughout the country, sharing ideas and thoughts while developing their reading, writing, and thinking skills.
Twitter is an authentic place to learn about digital citizenship. Classroom teacher and co-organiser Reid Walker from Henderson School says, "Students relish being able to connect with other students from across New Zealand. It's an authentic and unique learning task thanks to the variety of topics each week."
So How Can You Start a School-Wide Twitter Chat in Your District?
Start a blog for your Twitter chat so that you have somewhere to post your topics and questions.
Connect with teachers on Twitter to spread the word that you are going to start a chat for students, and advertise the time and date.
Invite teachers and their classes to participate in the chat. There are lots of different classes on Twitter these days.
Start a Kidsedchat Twitter account from which the moderator can post the topic questions. Let the students know that they can find the questions under this account.
Create a Kidsedchat Twitter list that the classes can follow on the day of the chat. A Twitter list groups tweets together more effectively than hashtags, which can attract spammers. Classes will need to subscribe to the Kidsedchat list, and you will need to add them to the list as well. Check out our How To Videos to help with this.
So How Can You Get Your Class Involved in the Twitter Chat?
Start a class Twitter account for your students to tweet from.
Subscribe to the Kidsedchat list and follow that list during the chat.
Before you start, teach your children how to use Twitter. Make sure they know all about timelines, lists, connect, and retweets.
It's a good idea to create classroom experts that can help other students with their tweeting. You don't have to have your whole class take part in a Twitter chat. A small group works well.
Always check the chat website prior to the session to get familiar with the week's topic. Preparation is the key to quality learning and quality tweeting.
Use the Tweetdeck app when taking part. This allows you to create columns, making it easy for the kids to follow all the tweets.
How do you use Twitter or other social media with your students?