Professional Learning
School-Wide Appreciation: 3 Ways to Say Thank You
May 20, 2014
Updated April 22, 2014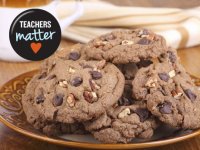 Spring is here and teachers, like their students, are feeling the itch of summer. As educators prepare for the final stretch of the school year, it's often too easy to just keep their heads down and race for the finish line. Not so fast -- it's important to say thank you to those around you who've made the school year possible. This is not just a post for administrators to show the love to their staff, but for the staff to show the love to the administrators, secretaries, custodians, counselors -- and of course the students. Here are some simple things you can do to say "Thank you!" for all of the hard work everyone has put in this year.
1. Give the Gift of Food
Are you the baking type? If you are, why not whip up a batch of cookies or brownies for the staff lunch room? A tasty snack for your colleagues to enjoy is a nice way to show your appreciation for everything they do. Little things like cookies or other treats can go a long way when it comes to staff morale.
And don't forget to bake something for the students! Just a small, teacher-created treat for each of your students to thank them for all of their hard work can go a long way in the classroom. Educators often forget the hours that students put into their projects for all of their classes. A little cupcake to show gratitude can win your students' hearts and minds as the warm weather sets in.
If you are not the baking type, pick up something from the store and share it with students and staff. Bagels or coffee in the morning is a nice way to show your fellow educators that you appreciate all of the hard work they do day in and day out. Some donuts and orange juice can really set a positive tone in the classroom as well. Feeding students and staff tends to make the entire school a better place. Whether you can bake or just shop at a bakery, saying thank you with some good food can go a long way.
2. Write a Note
Take a moment to write a thank you note to another member of the staff. One of my administrators did something like this. He made cards and gave them to every staff member, asking all of us to say something nice to another person in the building. These little thank you notes meant so much to the staff. It was a great chance to take a moment for sharing a personal thought of appreciation to another educator.
This can also work in your classroom. Try passing out cards to all of your students and having them write something nice to another person in the class or a teacher in the building. Passing on a handwritten note is something that can warm the heart and make a difference in the middle of a long week.
In the digital world, we often forget the value of a personalized written note. Sending an email is a quick way to let someone know he or she is awesome, but it's not as special as it could be. I'm not suggesting that people stop sending emails, but adding a handwritten thank you to the routine is easy and would be very much appreciated by those who receive one.
3. Just Say It
While there are many elaborate ways to say thanks to a friend and colleague, the best way to do it is to just say it – verbally, face-to-face. Make an effort to find the person you want to thank, and then just walk up and do it. The same goes for students. Take a moment at the start or end of class just to let them know that you appreciate their hard work and that it has not gone unnoticed. The memory of a kind word can sometimes last much longer than any written words ever could.
Most educators go about their business each and every day without looking for a thank you. Often, we are so busy that we don't have time to thank others. It is so important to let those around us know that they're appreciated, because that is how we make it through those difficult days. One of my favorite parts of teaching is my collection of thank you notes from students, staff and parents. When the job gets tough, I go through the box and remind myself why I do what I do. These notes mean everything to me, and I want others to know how valuable they are as well.
I hope all of you will stop and take a moment to thank someone that has been awesome this year, and I really hope you will start class with a big thank you to your students. But there are many ways of showing appreciation to students and staff. What methods have you used? Please share them in the comments below.