Family Engagement
Maintaining School-to-Home Ties in the High School Years
One district counteracts the problems masked by growing independence and diminished teacher contact with aggressive outreach to keep high school students and families engaged in education.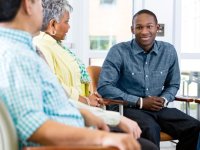 Editor's note: Janet Abowd co-authored this blog with Jarett Powers, Superintendent of the Union Springs Central School District in Union Springs, New York.
Close school-to-home ties, so carefully built during a student's early grades, have often loosened considerably by the high school years. The shift toward growing student independence requires an adjustment in how the school approaches successful partnerships with families and caregivers.
As teachers differentiate instruction for learning, schools must differentiate communication to foster school-to-home connections. Teachers and administrators can adopt a tiered communication strategy that leverages both the power of technology and personal interactions. The first tier of now-familiar tools includes parental access to online course management programs, classroom and school-based listservs, social media, electronic gradebooks, and student information systems. These tools have proven indispensible for providing real-time data and information, and are increasingly the cornerstone of school-to-home communication.
We found, in fact, that technology freed up time for direct contact with families and caregivers to develop very personal messages about our commitment to student success. We examined our practices and recognized that we had to discuss kids instead of cohorts, individualizing our response to their needs by using technology for a deeper understanding of the whole student.
1. Create Opportunities for Conversation
This became the charge of the whole-building administrative team, regardless of primary responsibilities. We pooled our collective understanding of individual students and expanded outreach beyond the last bell of the day. We strategized the most effective approaches. It was normal for us to be seen at neighborhood functions, at homes, and in the community. Students saw that the school knew who they were, cared about their success, and would not allow them or their challenges to be hidden from view or unaddressed. We took these steps:
Shortening the teacher grade reporting cycle
Devising and circulating a "D and F List" to flag students in need of quick intervention
Adding to the list our qualitative data collected through parent contact and visits to homes, students' places of employment, games and practices, and even places of worship
In short, wherever there were students, the school was there. Sometimes, we just said "hello" and made a connection outside of the school environment. Other times, we had a pointed conversation about the work that remained to be done, and we devised a time-bound plan for completion.
2. Deepen Your Understanding
School leaders planned summer programs to catch students up in courses and on standardized assessments. We needed to address student transportation challenges of getting to classes and jobs. Some students needed help with meals. In short, there were gaps in what the district could offer students to participate in these programs.
By working with our community partners and staff, we were able to get metro bus passes for about 40 students. We set out to deliver the passes via home visits in one day -- the day before summer school started. We knew that some students had no way of getting there and that a face-to-face visit could increase their own commitment to attend as well as their family's support. We visited places in our district that we never knew existed. We saw conditions of real poverty that helped adjust our thinking.
How could we ask students to utilize technology for homework when they didn't even have running water? We understood why one student was often asleep in the lounge. When no one answered at either parent's address, we discovered that the student was living -- sometimes -- at a third address. When we were unable to find one student at the hotel assigned by the Department of Social Services, we located him at a community center. We became genuinely aware, probably for the first time, of the artificial barrier created by the last bell that lulls us into a sense of complacency about many of our students' lives.
3. Be Accessible
Even if you think that you understand your community, drive the totality of the district. Knock on doors. Spend time in students' homes. Be seen in their neighborhoods. Your immediate goals will shift, and you will reframe the work to be done.
Find the key communicators in the community who can fill in the gaps and welcome them into the conversation. This includes community leaders, school physicians, law enforcement, athletic coaches, neighbors of the school, feeder school administrators, college and university partners, and your staff. Be a good listener.
If students and families know that you care and are taking an active interest in their lives, their response to you and to school will improve. This takes time, but it shows your genuine respect through a more profound understanding of the complexities beyond the immediate problem.
Home-life challenges are often hidden at the schoolhouse door, and they impact students at every economic level and regardless of academic capital and previous achievement. Our students have learned incredible coping mechanisms and ways to conceal problems. Appreciate the skills that this takes, and honor their commitment to show up even if their academic success will require an intense amount of work by a variety of stakeholders.
Every student has a story, and every student matters. While we talk about 21st-century knowledge and skill sets, we must also ensure that students understand how much their school cares about them as individuals.