Project-Based Learning (PBL)
School-as-Studio Immerses Students in Creative Problem Solving
What might students accomplish if they could spend part of their K-12 education on challenges that took them outside the regular classroom? How might teaching and learning change if school became the place to interact with experts, use professional-grade tools, and immerse yourself in collaborative problem solving and prototyping?
Some interesting answers are emerging from NuVu Studio, a break-the-mold school that occupies an inconspicuous spot on a busy street in Cambridge, Massachusetts. Launched in 2010 by a trio of bold thinkers from MIT, the school initially attracted students from independent schools and from families that could afford enriching experiences for their children.
But with public schools starting to recognize NuVu as an ally, and with replication of the studio model cropping up around the globe, the ideas incubated in this creative space have a chance to move from the edges of education to the mainstream. Here are a few takeaways from a recent visit.
Creativity With Constraints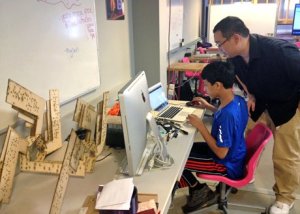 Photo Credit: Susie Boss
Nearly 50 students attend NuVu full time during the regular school year. That means they "do" middle or high school in a multiage setting without traditional classes. Some come for a trimester; others stay for multiple years. Students earn elective credits by choosing from a selection of two-week studio topics that are intentionally designed to cross disciplines. (Some high school students also take online courses to satisfy additional academic requirements.) Recent projects have focused on everything from futuristic fashion to biotechnology.
NuVu co-founder and chief creative officer Saba Ghole describes the studio approach this way: "We're deliberately mixing ages and grade levels. We want diverse perspectives and skill sets in each studio. We start with a theme for the trimester, develop design briefs, build in content, and then bring in interesting people to facilitate."
A recent trimester, for example, focused broadly on health topics. One studio zeroed in on addressing the needs of low-income youth who are living with cerebral palsy. "How could our students design products, wearables, or clothing for a youth audience? We had physical therapists and doctors who coached our students to help frame the pain points," Ghole explains.
More insights came from a family in Mexico whose daughter has cerebral palsy. After research and Skype interviews to better understand the health issues and the user experience, a team of NuVu students designed an improved lift vest. "Existing ones are kind of ugly. Users wanted something functional but also fashionable," Ghole says. Another team designed a stabilizing hand brace with attachable tools (printed on a 3D printer) for drawing and painting.
In June, NuVu students will travel to Monterrey, Mexico, to field test their products. "It's a real issue, real audience. Theory meets tangible outcome," Ghole says.
Critique Culture
NuVu students learn through the design process -- questioning, researching, modeling, prototyping, and improving their work in response to feedback. They also communicate their ideas through final presentations and document their learning in portfolios.
"The critique culture is a new and uncomfortable space for many students when they arrive," admits Ghole. Coaches ease newcomers into the process, starting with self-portraits that students manipulate using Photoshop. When students can see their work improve with feedback and revision, "then it becomes intuitive," she says.
The design process and studio culture are cornerstones of the learning experience, but that doesn't mean every project unfolds in the same way. "The process is messy," Ghole acknowledges, "and there will be variations based on where you start. It's not a formula."
Nathaniel, a high school student completing his second year at NuVu, said he didn't understand the studio model when he arrived. "At first, critique felt like a personal attack," he admits. "Eventually, I realized the coaches are critiquing my ideas, not me." Having opportunities to refine his work based on feedback has been a welcome change from the more traditional schools he attended in the past. "At my old schools, your work was either right or wrong. There was no revision, and nothing was about the real world."
Nathaniel has taken studios on a wide range of topics -- from multimedia animation to designing a prosthetic hand to the chemistry of food. He's one of many students who have developed what Ghole calls "creative confidence" during their time at NuVu. With an impressive portfolio that documents his learning, he plans to pursue college studies in industrial design and engineering.
Hack Your Wheelchair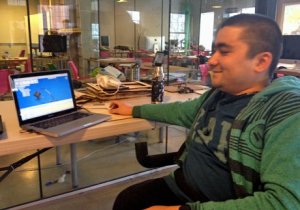 Photo Credit: Susie Boss
Although Ghole and team take the lead on planning studio experiences, they're open to student suggestions.
A "hack your wheelchair" studio came about because of a suggestion from Mohammed Sayed, a student who transferred to NuVu last fall from a nearby public high school. The adaptations he and his teammates have designed make his wheelchair easier to propel and better equipped to protect him from wet weather. Using 3D printers and shop tools, students have developed plans for interchangeable components.
For example, a "universal arm" enables a wheelchair user to stabilize a video camera or carry a cup of tea without sloshing -- two needs that matter to Sayed. He and teammate Kaitlin Reed demonstrated their innovative solutions for President Obama at the recent White House Science Fair.
The wheelchair hacks "make life easier," Sayed explains, "and look cool." The last thing a teen wants, he adds, is for his wheelchair to look like an infant stroller. The NuVu team has made the plans open source so that other wheelchair users can hack their own equipment. Already, Sayed is imagining a futuristic wheelchair that can fly. "Creative people are meant to change the world," he says, "not take tests."
*//*-->*//*-->*//*-->*//*-->*//*-->*//*-->*/
video
Into the Wider World
The creativity and energy that fuel the learning experience at NuVu are starting to spread to distant corners of the globe. Through a long-term collaboration with the American School of Bombay, Ghole regularly brings a team of highly specialized NuVu coaches to Mumbai, India.
Earlier this year, ASB middle school students took part in an immersive, four-day experience called Studio 6. They could choose from 11 studio topics, such as designing games to improve global health, producing documentary films about Mumbai, composing electronic music to tell stories, or making art for public spaces. Each studio was assigned a NuVu coach with deep content expertise -- such as a physician knowledgeable about global pandemics -- plus regular classroom teachers to help manage the learning experience.
For teachers and students alike, Studio 6 offers a change from school-as-usual. For staff, the week provides a context to implement instructional practices such as project-based learning, design thinking, interdisciplinary learning, and making and tinkering. For students, the experience is high on the fun factor, but not fluff.
Pip Curtis, principal of ASB middle school, says that each studio maps to important learning goals, including 21st-century skills such as collaboration and creativity. Students reflect on their own growth, receive peer feedback, and are assessed by coaches and teachers. (Read Curtis' reflections on the development of Studio 6 in the ASB journal, Future Forwards.)
Worth Considering
Are there ideas that other schools might borrow from NuVu? Here are a few to consider.
If your school is considering a shift to PBL, design thinking, or interdisciplinary learning, a short-term studio experience might give teachers a chance to test-drive these instructional strategies. How might you connect a short-term studio experience with professional learning goals? How could school leaders help to prepare teachers for a successful experience?
Does your school encourage a "critique culture"? How do you help students understand that formative assessment and revision will help them to produce higher-quality results and reach their own learning goals?
Do you encourage students to reflect on their problem-solving process? Consider different ways that students might capture their reflections, such as blogs, photo galleries, sketches, or videos of work in progress. (See examples on the NuVu website, including these reflections about the wheelchair project.)
How do you engage with experts? NuVu has been intentional about developing a go-to list of content experts from diverse fields who enjoy sharing what they know with students. How might you develop your own network of content experts? Please share your suggestions in the comments section below.