Technology Integration
Technology SAMR Model for Administrators – Part 2: Community Interaction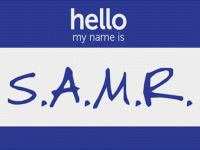 Why should I tweet? How can social media help improve test scores? Is it worth the time to set up? These are just a few questions I often hear when I ask school leaders about their digital communication tools.
Some administrators are social media pioneers and do a wonderful job interacting with their local or even global communities on a daily basis. While there are many great success stories, there are those who still struggle with harnessing the power of social media.
School administrators must be digital leaders in their communities. Podcasts, live chats, and videoconferences are all available to share positive aspects of a school's culture. Leveraging the power of social media is important because it creates an instantaneous relationship between the school and community. Parents at home or at work can receive tweets showing in real time what their child is learning in science class. LiveChats on Twitter open up a forum for parents and community members to voice their concerns or share successes.
So how do we use these digital tools? More importantly, why should we use these digital tools?
Student Support
One of the most important factors to a student's achievement is parental involvement. Social media allows for school administrators to share student successes and form strong bonds within the local community. Utilizing tools such as Twitter or Remind (formerly Remind 101) to communicate with parents creates a network of support for student achievement. The introduction of online two-way communication also opens up the opportunity for both students and adults to participate in meaningful discussions concerning digital citizenship.
Two-Way Communication
The typical school newsletter contains great information for both parents and students. There may be important events, upcoming fundraisers, or general announcements for the community. This format creates a one-way communication scenario. There is little to no interaction between school leadership and the community regarding the information from the newsletter. This presentation of information is not the same as interacting with the content.
Posting the same newsletter using the appropriate digital tool would allow for two-way communication. Parents could post comments or leave feedback regarding the upcoming events. If posted to social media, parents could further share the information with their online social networks. Increasing the flow and diffusion of information is vital to successfully leveraging social media tools between the school and community.
Power of Groups
I'm often amazed at how far a single tweet can travel. An idea, picture, or quote can be retweeted around the world immediately. Something posted by an educator from India could impact the daily lesson plan of a teacher in California. Impacting the lives of students, parents, and educators on a global scale -- this is the power of social media. Utilizing these tools effectively allows for huge, diverse groups to share instantly and meaningfully.
I've detailed a few examples of digital community interaction using the SAMR model (Substitution, Augmentation, Modification, and Redefinition):
Substitution
Email the school newsletter.
Post the school newsletter to a website.
Augmentation
Create a school-wide Remind account for sharing information.
Create a Symbaloo page of important school links.
Modification
Use Twitter to keep the community informed.
Create QR codes to post around the school and/or community for sharing information.
Redefined
Set up a Twitter LiveChat between school leadership and community members.
Use Google Hangout for a PTA meeting.
School leadership and community members can collaborate on Google Drive.
Use Aurasma to share information about student achievement throughout the community.
Based on your perception and tech-savvy abilities, some of these tasks may not fit your definition of SAMR. Please feel free to leave a comment below sharing your ideas.