Social & Emotional Learning (SEL)
The Research Behind Social and Emotional Learning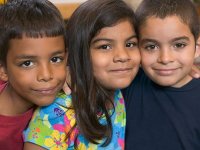 Teaching without implementing social and emotional learning (SEL) is like leading kids without shoes on a trek across the Appalachians. Count on a short trip with lots of whining.
The goals of SEL, according to the Collaborative for Academic, Social, and Emotional Learning (CASEL), "are to one, promote students' self-awareness, self-management, social-awareness, relationships, and responsible decision-making skills; and two, improve students' attitudes and beliefs about self, others, and school."
Instructors' reluctance to make space in their curriculum for "touchy-feely SEL stuff" is understandable, as teachers are under pressure to meet content area standards. Additionally, here-today-gone-tomorrow educational initiatives make adoption of anything new a potential waste of time. But SEL is different. It has a track record. Says Steven Elliott, the director of the Learning Sciences Institute at Arizona State University, "A lot of people believe that we just don't have time for social skills, and yet the data continue to show it's a great investment."
The Data Speaks
A 2011 meta-analysis of 213 rigorous studies of SEL in schools determined that students receiving quality SEL instruction scored 11 percentile points higher on academic tasks and demonstrated more motivation to learn, including spending more time on homework. In another study, Zipora Shechtman and Mary Abu Yaman concluded that taking away time from academic teaching for socio-emotional learning only improves outcomes."
One advantage of SEL is that it serves the most vulnerable K-12 kids -- a number that is growing. Of the 54 million USA students, 16 million live in poverty, 1.1 million are homeless, 16-25 percent are sexually abused, and 7 percent have serious emotional and behavioral disorders.
Confidence -- a trait learned through SEL -- that at-risk students can persevere through academic struggle is in short supply for many reasons, one being that traumatized children find it difficult to retain hopeful memories.
To compensate for students in short supply of self-efficacy, teachers should tell about kids who succeeded against all odds, advises Vicki Zakrezewski, who holds a Ph.D. in Education and Positive Psychology. "It'll give them the confidence and creativity to reach their long-term goals in school and in life." We need all children to be hopeful, so that they set goals and stay motivated even when life is rocky.
SEL Programs and Exercises
A variety of packaged SEL programs can be incorporated across subject areas and grades. However, there are alternatives to purchasing commercial SEL curriculum. Simple lessons incorporated into classrooms by teachers are more successful than community-wide packaged programs, says author Larry Ferlazzo. Start with some of these lessons:
The Nonverbal Gossip Experiment 
One of many exercises recommended by the Six Seconds EQ Network improves attention, perception, and nonverbal communication. After seating everyone in a circle, a student volunteers to express a feeling nonverbally to the peer next to him/her, who passes it on to the next, and so on until the feeling completes a full circle. During a debrief, ask what body parts were used most and how nonverbal expressiveness could be improved.
Active Listening with Sentence Stems 
Alicia Sullivan, a 6th grade teacher, describes in Write Solutions how she incorporated SEL into partner discussion: "I told the students I would be paying close attention to how actively they would be listening to each other. I told them I would not be asking them to share out their own ideas, but instead a partner's. I listed some sentence stems on the board as they talked like, 'My partner______ said…' and 'Talking with______ changed my thinking because______ …' and '______ suggested...' These conversations align with the Common Core State Standard's emphasis on active listening and collaboration.
Classroom Community Problem-Solving 
Fifth grade teacher Erica Welch teaches SEL in the context of activities that support the classroom community, such as challenging her students to collaboratively design a method for safely arranging chairs for regularly scheduled SEL meetings. "With 26 kids . . . it was hard to orchestrate that in a crowded classroom." Small teams of students were challenged with creating a proposal that identified "obstacles they might face and how to overcome them." The following day, kids presented their plans and voted for their favorite approach. Problem solved.
Teachers like Erica Welch's and Alicia Sullivan facilitate essential precepts of SEL: giving students clear instructions so they regulate learning, demonstrate autonomy, competence, and cooperate to accomplish authentic tasks.
Conclusion
Never accept that students are incapable of sharing feelings, self-regulating, or supporting peers. Distributing recipes won't turn people into chefs. And simply giving kids a handout on SEL won't change them into emotionally intelligent human beings. Students need time to practice new SEL skills. And when they fall short of your expectations, give them another chance.
Colleagues, administrators, and students might resist SEL. But you can change minds: be brave, start slow, assess and share results, and remain relentless.
More SEL Resources
Please share your SEL resources and stories in the comments section.