Technology Integration
Redefining Learning Through Screencasting
Introducing new technology into the classroom, especially iPads, can be overwhelming -- even daunting. When first getting started, the technology may seem like more of a distraction than a learning opportunity. So how do you begin?
Scott Meech (@smeech), Director of Technology for the Downer's Grove School District in Illinois, offers this perspective:
Dr. Ruben Puentedura (@rubenrp) developed the SAMR Model for assessing and implementing new technologies. At the most basic level, new technologies are used as a substitution for something that could previously be achieved with an older tool -- for example, a typed report, a digital poster or a PDF worksheet. However, this is only the first step. As we progress from using technology as an enhancement to focusing on its power for transformation, we recognize the potential to redefine learning. Scott Meech revised the SAMR model image to add additional context: "Cement Foundation and Reach for Gold."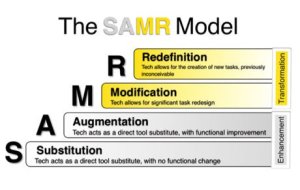 Credit: Scott Meech
The SAMR Model
What technology can you use to get to redefinition? How do you start reaching for gold? Is there "an app for that"? Maybe.
One of the most valuable tools afforded by iPads is the ability to screencast -- to combine audio, images, drawing and text on a whiteboard to create a video. Given the multitude of outputs afforded by this one type of app, what if we focused on accelerating learning through a single tool?
Cement Foundation: Substitution & Augmentation
Whether you choose Screenchomp, Educreations, ExplainEverything or any other screencasting app, at the substitution level of SAMR, they all enable the production of PowerPoint-­like videos to deliver lecture-­based content. The paradigm is familiar and provides an opportunity to gain experience with iPad. However, the end goal should not be to simply create a screencast. To use Scott's language, the learning target should be to make thinking visual.
Stepping toward the augmentation level, students may use screencasting to demonstrate solving a math problem, or labeling a process that focuses more on demonstrating their comprehension rather than presenting facts. They might leverage the drawing tools and audio recording to tell a story, provide additional context or explain their thought processes.
Jennie Magiera (@MsMagiera), Digital Learning Coordinator for Chicago's Academy for Urban School Leadership, displays her students' work at Magiera's Mathematicians. Here we can see how Brittany M., a fifth grader, used screencasting to create a video word problem. In watching her story, we see her problem-solving approach, know that she understands the concept of conversions, and also gain insight into how she constructs her understanding.
In leveraging the functionality afforded by a single type of app, a new learning context emerges.
Reaching for Gold: Modification & Redefinition
Shannon Soger (@shannonsoger), a 1:1 coordinator in Chicago, encourages teachers to teach above the line. The goal should be to consistently move toward transformation. Still working with screencasting, we can modify our concept of what is possible.
As Kristen Wideen (@MrsWideen) demonstrates with her mixed first and second grade class, screencasting bridges the gap between the physical and the virtual in order to extend the learning context. Through the use of the Explain Everything app, in conjunction with a paper-­based project, she encourages meta cognition and provides students with a voice to explain their thinking. In a similar vein, consider the learning target of presenting knowledge, demonstrating understanding, and offering an explanation. Not only does the following example from MIT offer an exposition of structures, but it also incorporates persuasive writing skills and complex communication.
video
Referring back to Scott's original statement, the goal is to redefine the learning --­ not the technology. Watch as Jenni Robertson's student articulates her strategies for solving an arithmetic problem. Screencasting captures her thoughts and allows us to witness a process that might otherwise have been missed.
video
Reshan Richards (@reshanrichards), creator of the Explain Everything screencasting app and Director of Educational Technology at Montclair Kimberley Academy, has researched the impact of screencasting on redefinition as part of his doctoral work:
Teaching Above the Line
What if the sole use for iPads during the first few weeks of school was to create screencasts? What if the focus was on "climbing the SAMR ladder" rather than on integrating a device? Imagine the learning targets that could be reached and the transformation that could occur.