Education Trends
5 (Recent) Historical Events You Should Discuss with Your Students
One of my students recently asked me about something he saw on the news regarding the Sochi Winter Olympic Games. His question was not about a certain sporting event but instead about the increased security because of the possible terrorist attacks, particularly against athletes from the West. I attempted to explain how some individuals do not agree with the American culture and related the situation back to the September 11, 2001 terrorist attacks on the United States. Unfortunately, the connection I was trying to establish between these events wasn't as clear as I'd hoped because my ninth grade student, born in the year 2000, was unaware of what happened on 9/11. Of course he'd heard of the attacks, but he didn't understand the background behind the event.
This conversation got me thinking about other important events from the 21st century that my students were unaware of but that will have lasting impact on their futures. Some of these events may already be covered in contemporary curriculum, but could be enhanced further by infusing them into other content areas. These discussions could help improve comprehension and global awareness as today's students mature into young adults in our ever changing, digitally connected world where nothing happens in isolation.
The list I've created below is by no means all-encompassing but only a reflection of the events I believe students could develop a deeper understanding about. Instead of just listing facts about each event, I've detailed below a few reasons why each event should be discussed.
1. 9/11 Terrorist Attacks and the War on Terror (2001-Present)
This explains our national remembrance of the nearly 3,000 Americans that were killed.
These attacks led to the invasions of Afghanistan and Iraq.
Operation Enduring Freedom is still being fought by our Armed Forces.
The U.S. government has spent nearly $8 trillion since 2001 on national security.
There has been a rise in intelligence spending and monitoring of citizens worldwide by governments.
This is the story behind the building of the Freedom Tower in New York City.
2. Arab Spring (2010-Present)
A sweep of popular uprisings led to multiple civil wars (Syria's war continues), civil disorder, governmental changes, major and minor protests, and the overthrow of entire governments (Egypt, Libya, Tunisia and Yemen).
The movement rapidly spread due to social networking sites.
These changes led to the creation of new governments.
The uprisings have drawn international support for protestors and condemnation by foreign governments for violence against these countries' citizens.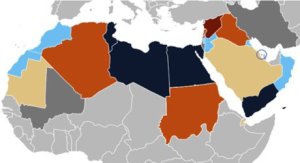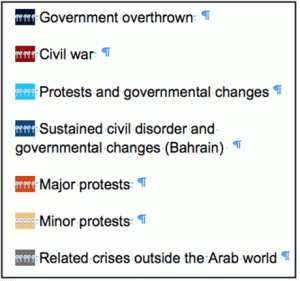 3. World Financial Collapse (2007-2009)
This event was considered by some economists to be the worst financial crisis since the Great Depression of the 1930s.
Governments went to great lengths to bail out banks and private industry.
The trigger was the housing market drop of 2006, resulting in evictions and foreclosures.
There was a global rise in unemployment levels.
Some countries are still recovering from financial losses.
Congress passed the Consumer Protection Act of 2009 the Dodd-Frank Bill of 2010 (Wall Street reform) as a result of financial mismanagement.
4. Natural Disasters (Early 21st Century)
Each of the following events drew extensive international support.
The Tohoku Tsunami (2011), caused by a 9.0 earthquake off the coast of Japan, led to the meltdown of the Fukushima Daiichi Nuclear Power Plant. The death toll reached 18,400.
The Boxing Day Tsunami (2004) was caused by a 9.2 earthquake in the Indian Ocean. 230,000 were killed in 14 different countries.
Myanmar (also known as Burma) was hit by Cyclone Nargis (2008), which caused the death of more than 146,000 people.
The Haiti Earthquake (2010) resulted in the death of over 316,000 people.
5. Social Networking Revolution (2000-present)
Our students are Digital Natives!
Social networking sites are used by 73 percent of U.S. adults (Pew Internet Project).
There are over one billion Facebook users, and that network is now ten years old.
Over six billion hours of video are watched each month on YouTube, with 100 hours of video uploaded every minute!
Legal disputes are now common between potential college students, potential employees, current employees, and companies and universities over privacy violations concerning social media sites.
We are beginning to see legal disputes concerning government agencies monitoring Americans' digital traffic.
What recent and potential historical events are you discussing with your students?