Student Engagement
Reading with Pictures: Serious Learning Through Comics
June 10, 2014
Updated May 21, 2014
I'm eight years old, reading the latest issues from Detective Comics. As much as I admire the pictures, I'm paying particular attention to the writing. I'm motivated to truly understand what's happening in each panel.
For me, it's impossible to overstate the educational value of superhero comics -- or comics of any sort, for that matter. At an early age, my passionate engagement with this literary art form greatly strengthened my reading and writing skills and, by extension, my success in the classroom.
Creating Reading With Pictures
That's why I connected with Josh Elder, an award-winning graphic novelist and nationally syndicated cartoonist who, in 2009, founded Reading With Pictures, a nonprofit organization that advocates the use of comics to promote literacy and improve educational outcomes.
Elder also writes several titles for Detective Comics, including Scribblenauts Unmasked, The Batman Strikes! and Adventures of Superman. He made it, and now he's living out his dream.
But as the son of a single working mother, who recalls having to wait in line for government-issued cheese, he faced a future where success seemed anything but certain. "I was one of those kids that shouldn't have made it," he says.
Elder also had a difficult time in school -- not so much with comprehension (his IQ tested off the charts), but with finding relevance in his studies. All of that began to change when his teachers encouraged his passion for reading comics. "When they saw that I was reading so much on my own, they didn't try to stop me," Elder says. "They let me go."
He eventually found greater meaning in learning other disciplines, like psychology and history, to cultivate his blossoming interest in storytelling. "Comics made my educational process so fundamentally different, enhanced my prospects so significantly that I feel I had to share that with other people," he says. "It isn't fair that I benefitted from this and other people don't."
Comics That Make Kids Smarter
For all of those reasons, Elder is passionate about Reading With Pictures. In August, the organization will release its first major volume, Comics That Make Kids Smarter, through Andrews McMeel Publishing.
Some of the greatest creative talents in comics and visual literacy produced this book, which addresses topics in social studies, math, language arts, and science. Highlights include George Washington: Action President by Fred Van Lente and Ryan Dunlavey, Doctor Sputnik: Man of Science by Roger Langridge, and The Power of Print by Katie Cook.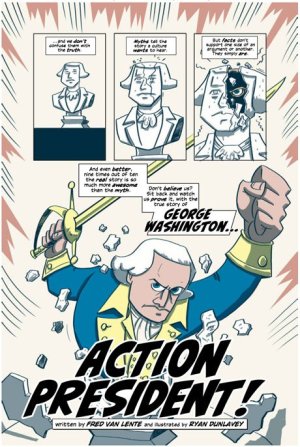 Credit: Reading with Pictures
(Click to enlarge.)
Each chapter is aligned to comply with Common Core Standards, and the teacher's guide is chock full of detailed lesson plans. I'm fond of Solution Squad: Primer, an adventure story about a team of teenage heroes whose powers are based on mathematical concepts. The lesson plan reads:
Credit: Reading with Pictures
(Click to enlarge.)
Reading With Pictures gears itself toward students in grades 3-6, with an array of education experts like Tracy Edmunds -- an author, editor, curriculum developer, and comics enthusiast -- contributing to the book's content.
Edmunds believes in the power of comics and graphic novels as educational tools, which require readers to not only receive information passively, but also interact with the text and images to construct meaning.
"That is the key to the magic," Edmunds says. "The immediacy of comics can also take what students may think of as 'boring' subject matter and make it interesting and motivating. The lesson plans we developed help teachers take advantage of the power of comics to teach every subject."
Up, Up, and Away
As if he weren't busy enough, Elder also serves as an ambassador for the U.S. Department of State, using comics to help students in Belarus and Chile cultivate a greater interest in reading, writing, and storytelling.
In America, Elder hopes to start a similar program through Reading With Pictures. "The biggest challenge is getting students to pay attention in the first place, getting them to care," he says. "Comics are a way to do that. We need to use every trick that we can to keep them involved and engaged."
In the meantime, Elder continues to make appearances at education conferences and comic conventions around the country, promoting his organization and the power of learning through comics. Eventually, he hopes to release an entire series of standards-oriented comic products, each geared to specific subjects.
"We're a toolkit, and I want people to do as much with that toolkit as they can, because that's where you make a real change," Elder says.
Have you found educational uses for comics in your classroom? Please share your own thrilling adventures in the comments section below.