Student Engagement
Teaching Students to Re-Dream with Shakespeare
In his book Reinventing Shakespeare (1990), Gary Taylor unravels the long series of historical and theatrical circumstances by which the plays of William Shakespeare have somehow survived four hundred years of reimagination and reinterpretation. We are quickly approaching a time -- if we have not already passed it -- when Shakespeare's language is inaccessible to all but scholars. Recovering these plays and experiencing them the way theatregoers and readers did in the last decade of the 16th century and the first decades of the 17th may be impossible. But teachers, those daily doers of the impossible, must participate with students in the sort of reinvention that Taylor is describing to create a Shakespeare who speaks to students and who, in turn, is spoken by students.
Magical Transformation
As magicians, most teachers take for granted the most dazzling trick they perform: gazing at lines of print on a page or screen until they come to life in the brain. As I glance at a text of As You Like It (Act 3, Scene 2), I watch a besotted Orlando, meandering through the forest and hanging his love poems on tree branches. In a flicker, I see myself as Orlando and then, in another, I envision an Orlando I've seen in a Royal Shakespeare Company production at the Globe in London. The ease of my imagining is a powerful gift, one that must be taught to young people more accustomed to experiencing magical transformations that are external, performed within the confines of a digital screen.
For reading and reimagining any of the centuries-old literary texts that I teach, I begin with an introduction to the mechanics of time travel. In the case of Shakespeare, this work has been illustrated charmingly by Susan Cooper in King of Shadows (1999) and by Pamela Mingle in Kissing Shakespeare (2012). These accessible books illustrate the process by which young people mired in the present can project themselves back into a recreated world four centuries removed.
Stepping into the Past
But I would rather have students travel back themselves, with my guidance. "Let's lose the things that belong to the 21st century: no cell phones, no iPads. Let's lose the things of the 20th: no planes, no cars, no antibiotics. And the things of the 19th: trains, factories, telegraph. And the things of the 18th: libraries, sewers, coffee houses. If we strip those things away, what is life like in the year 1600? How far can we travel in a day? What does it smell like outside? If you lived in London, how would you get to the Globe Theatre, on the South Bank of the River Thames in Southwark? What were the alternative activities for people traveling to the neighborhood of the Globe?" Students may be stunned to learn that the same people moved by the complexity of Hamlet and the sublimity of King Lear also watched bear baiting and cock fighting in the same area of town.
At a very basic level, we try to work our senses in this reinvented London of 1600. What do the church bells sound like? What are the street vendors calling out? Much of this work is slow going and requires elementary research and the instructor's prompting and filling in of detail. But it's vital preparation for the challenge ahead: engaging with the actual works and their unfamiliar allusions and jokes and aphorisms. These works were meant to be performed, to be an act of collaborative, social imagination. And so the classroom must try to replicate that environment. Students should perform the works aloud, make choices, and then try alternative choices as they bring scenes to life. It's also crucial that they witness professional performers working their magic with gesture, blocking, facial expression, and vocal nuance to bring this jumble of obscure language into a powerful, unforgettable clarity.
Language Comes Alive
A part of exercising the historical imagination should be the Oxford English Dictionary. The historical usages it provides are themselves a kind of time-traveling activity, illustrating how words change over time and form a record of the people and cultures using them. This takes patience and preparation on the part of instructors (particularly in finding powerful examples), but the result can be a profound new appreciation for the malleability of language and the layers of human experience embedded in English.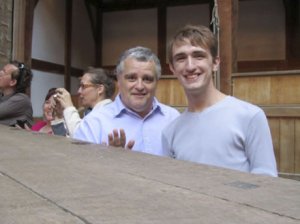 Credit: Will Banks
Thomas Passwater (R), and Rick Taylor belly up to the stage (prime 'groundling' real estate at the Globe) for a production of The Tempest.
There is no more powerful aid to the imagination than going to the site itself. The reconstructed Globe, as if in answer to Taylor's book, is the best Shakespearean classroom I know. I take students and teachers there every summer. Study abroad is a logistical challenge -- and expensive -- but it can be life-changing. My students and I have been "groundlings" at Shakespearean productions every summer since the facility opened in 1997. Standing up, pressed together close to the stage, we have been pummeled by wrestlers, peed upon by magical creatures (pretend pee, I hope!), snatched completely out of our 21st-century sanctuaries, and dragged into the world of the actors re-dreaming those ancient and always intoxicating dreams.
For those who find a trip to London out of reach, we are blessed with a world of outstanding regional Shakespeare festivals, many listed on the Shakespeare Fellowship website. These productions -- and even filmed stagings of the plays -- can do wonders in guiding students' imaginations and bringing the Bard of Avon's works to life.