Diversity
Pronouns and Bathrooms: Supporting Transgender Students
We can recognize transgender and gender-nonconforming students when we change their names on class rosters, designate gender-neutral restrooms, and support them in their chosen identity.
September 28, 2015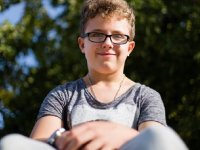 High school can be a challenging experience for any student, but this is especially true for our transgender and gender-nonconforming students. Although many children are beginning to define and understand gender in fluid terms, these trends do not suggest that all transgender students feel supported by their teachers, administrators, and peers during high school.
Over the past couple of months, I asked a number of transgender adults across the country to reflect on their high school experience, and offer advice to teachers and administrators on how best to support transgender high school students. I compiled various stories, perspectives, and anecdotes obtained from phone conversations, coffee shops, and a survey that I posted on Reddit's online ftm transgender community.
Advice From the Trans Community
Use your student's preferred name and pronoun.
Unfortunately, many transgender students find it necessary to either relocate to another school or drop out, because teachers continue using their birth name and sex in class rosters, which further complicates an already challenging process.
I began my transition at 15, in high school. I didn't really have parent support, but I was an especially good self-advocate, and also fortunate enough to be visually perceived as male by others, which I'm sure helped. I changed my name and pronouns with some friends my sophomore year, and then with all students and teachers my junior year. I switched schools between my sophomore and junior years, which made this switch easier. The two schools I went to reacted drastically differently to me being trans -- one was much better about it . . . I didn't really have the support I needed, either from peers, teachers, administration, or family. I ended up dropping out of high school my junior year.
If you are a district- or school-based administrator, consider updating the school's student information system to include preferred name and gender on classroom rosters. This can prevent intense feelings of anxiety:
The best thing the administration did for me was update my name and gender within the school records, even though I had not legally changed any of that yet. My name appeared correctly on schedules, grades, transcripts, etc. Teacher comments were written regarding me as a male. When I graduated, I was offered to have my chosen name on my diploma, rather than my legal name. Although I declined, I appreciated the gesture and wish I took it.
As a teacher, the easiest way to support students is by using their preferred name and pronoun in and out of class, sending a clear signal to your students that you've got their back.
I can still remember getting nauseous every time my teacher took attendance, because my old name was listed on official classroom rosters. By this point, my classmates knew me as a male.
Offer gender-neutral and gender-affirming restrooms.
Aside from using preferred names and pronouns, this was the most common recommendation from the Reddit transgender community, because it too can be another intense source of anxiety for transgender students, potentially causing emotional and physical health issues from avoiding restrooms at their school.
Situations like these are what brought the United States Justice Department to affirm that Title IX protects the rights of transgender students, allowing them to use bathrooms that align with their gender identity.
However, when talking with Dr. Megan List, a transgender female from Butler, Pennsylvania, I learned that many of these "trans-safe" bathrooms are often inconveniently placed, making it more difficult for students to use between class changes. When making a decision, ensure that it doesn't further alienate students.
Other trending comments, concerns, and recommendations:
Provide school-wide professional development on transgender issues.
Stress the importance to your faculty and staff regarding privacy (e.g., do not publicly out transgender students).
Protect and/or defend trans students from emotional and physical abuse by fellow students and, in some instances, parents.
Make a point to vocalize that you are an ally, and create an environment where students feel like they can speak candidly with you and their peers.
Incorporate opportunities to address transgender issues in your class.
Transgender resources for students, parents, and schools:
During my time as an instructional coach, several teachers have asked me to share resources for transgender and gender-nonconforming students at their schools -- this is especially true for schools in rural areas, where there isn't an active LGBT center.
The American Civil Liberties Union of Illinois shared a comprehensive list of national organizations (PDF) that provide various types of support for transgender students (i.e., laws, exemplar policies, suicide hotlines, online communities, parenting resources, etc.), including:
Seeking Recognition
The most common need expressed from within the trans community is an unwavering need for affirmation -- to be more fully human.
For example, one of the most interesting stories was that of a 19-year-old trans woman who shared her connection with Robin Williams' character, Andrew Martin, in Bicentennial Man:
A few years ago, I watched Bicentennial Man with my parents. We were all touched by Andrew Martin's unwavering desire to be more fully human -- making it his life-long journey to be recognized as "human." I can't speak for the entire community, but that is all I've ever wanted: to be recognized as fully female as possible.
Please share any experiences that you've had and resources that you believe would be helpful for teachers, administrators, and students.