Student Engagement
Projects to Engage Middle School Readers
It's my fault. I'll admit it. During my eight years in the classroom, I ruined at least two amazing literary works by assigning horrifically dull reading projects. My only hope is that those middle school students, whose enthusiasm I quashed, found another way to become passionate about literature.
video
Peanuts raises some interesting questions about the value of reading projects. Does Lucy clearly articulate her understanding of Peter Rabbit? Does Schroeder have a solid grasp on the concept of narrative? Will Charlie Brown ever want to read another book?
In middle school, we ask students to dissect texts and perform literary analysis. However, that does not mean that we have to limit how we assess their understanding of the books. If the desired learning objective is for students to . . .
Demonstrate understanding of the plot elements
Explore the role of tone and theme
Identify significant scenes or events and their impact on the story
Analyze a character and show an understanding of that character's motivations
Explain the relationship between the author's life and the story
. . . does it have to be an essay or book report?
Book Trailers
In the spirit of movie trailers, book trailers allow students to create video advertisements to entice new readers. Not only do these projects ensure that students have a firm grasp on the story's plot, setting, theme and main characters, but they also provide an opportunity to address persuasive writing as well as digital literacy concepts like copyright and publishing.
Students could use iMovie or Animoto to create and publish their videos. In fact, iMovie includes a set of pre-built trailer templates, and Ben Schersten (@benschersten) created a great set of PDF storyboards for students to use in planning those projects. Both iMovie and Animoto allow students to focus on the content, as they greatly simplify the editing process. Ann Feldmann's sixth graders produced a great set of examples. By incorporating their own drawings and writing instead of searching for images or shooting live video, the technology became a medium through which they could really engage with the literature.
video
Podcasts
On a foggy fall day, I took my ninth graders outside to sit on the porch while I read "The Tell-Tale Heart," tapping heartbeats on the deck and playing off the ominous weather. They hung on every word, engrossed in Edgar Allen Poe.
Leveraging the recording capabilities of most computers and mobile devices, students could explore the role of tone and sound by creating podcasts in the fashion of old-school radio shows. Using Garageband, Audacity, AudioBoo or any other sound recorder, students can retell portions of stories, complete with background music and sound effects, to demonstrate their understanding of tone, setting and theme, as well as practice their reading fluency.
Choose Your Own Adventure
My middle school students struggled with identifying and comprehending the concept of foreshadowing. They didn't readily see how certain moments or scenes could impact later events. By allowing students to recreate the story as a "choose your own adventure" tale, they have the opportunity to map out not only the original story but also a new one, identifying significant events or images and their impact on the story.
Within the Book Creator app, students can build e-books with text, images, drawing, audio and video. Since inserted images can be hyperlinked to specific pages, students could create interactive stories. Jonathan Wylie (@jonathanwylie) describes a similar approach in his blog using a combination of Google Forms and Google Presentations. Either one of these options encourages students to identify significant moments from a book and illustrate their relative impact on the overall plot.
Illustrated Character Analysis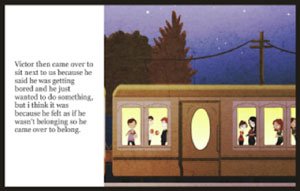 Atticus Finch tells Scout in To Kill a Mockingbird, "You never really understand a person until you consider things from his point of view -- until you climb into his skin and walk around in it." In order to see whether or not your students truly comprehend the characters, encourage them to create a new scene and put those characters in the middle of it -- to take a walk in their shoes.
Storybird allows students to choose from hundreds of illustrations in order to create their own stories. As illustrated by Cybenglish, students could show their understanding of characters by placing them in new scenes in order to reveal their motivations.
Augmented Reality Author Studies
When my eighth graders read Night, they also conducted historical research into the life of Elie Wiesel to better understand the context of the book as well as the author's account. These studies turned into small research papers to which my students had hardly any personal connection beyond having completed an academic task.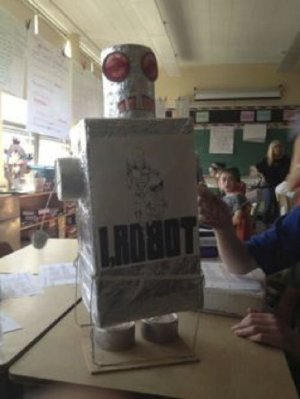 Credit: Elissa Malespina
The robot served as a trigger image for a student's 'aura.'
On the other hand, Elissa Malespina (@SOMSLibrary) constructed a completely different experience for her students. At the culmination of their author study, her students created Animoto videos which they then turned into "auras" with Aurasma, an augmented reality app. To do this, students created trigger images representing either the author or a character from the book, which their classmates scanned in order to watch the videos. In the end, not only did these students articulate the relationships between the authors and the stories, constructing an immersive experience for the rest of the class, but they also contributed their knowledge to a broader community.
Vision of an Engaged Middle School Reader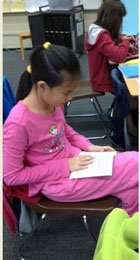 Credit: Karen Moulton via ThingLink
How many middle school readers have you seen who look as engaged as the children in this picture?
If the true learning objective is to ignite a student's passion for literature and provide an opportunity to demonstrate understanding through a variety of modalities, then maybe it's time to move beyond the book report.