Collaborative Learning
Not Just Group Work — Productive Group Work!
To ensure productive group work, teachers must communicate expectations, strategically build groups, structure activities, scaffold work with a supportive classroom culture, and stress individual accountability.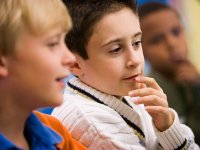 We know that group work can be instructionally effective, but only if it is productive. We don't just want busywork when students work in groups -- we want learning! Work doesn't always create learning, an idea that many teachers still struggle with. These teachers make the assumption that even with a clear task, group work will be productive. Conversely, many teachers assume that when building classroom culture, group work will be productive as well. Actually, multiple factors lead to effective and productive group work, but all must be in place to make it happen. So how do we create that structure for productive group work?
Clear Intention
The purpose of group work needs to be clear not only to the students, but also to the teacher. Do students even know the intended outcome for why they've been assigned to work in a group? Have those expectations been clearly set? Have students set those expectations themselves? These are questions that educators need to consider as they structure group work. In addition, there are many ways to do group work, from random groupings to teacher choice to something in the middle. All choices are good, as long as you have a clear intention. Teacher choice can be effective when the idea is guiding instruction based on assessed needs. Student choice is excellent for projects and extension assignments. Whatever drives the choice, the intention of the grouping must be clear.
Heterogeneous vs. Homogeneous
Similar to clear intention, heterogeneous and homogeneous grouping must be intentional in choice. There are pitfalls in both. Putting together students of similar ability may not always produce the desired outcome. If students in a low-achieving group do not have access to resources (teacher, materials, etc.) to complete the task, they will not reach the desired outcome. Sometimes, members of high-achieving groups fail to interact with each other, so teachers must ensure that culture is built for that. Similarly, heterogeneous teams shouldn't just be "higher and lower kids" together, but instead carefully arranged. Sometimes the high-achieving students will take over and exclude others from the learning process. Educators need to think very carefully about their construction of homogeneous and heterogeneous groupings, and the intentions for both.
The Importance of Structure
As explained in the video about PBL, structured collaboration is key. You should not put students in groups and simply ask them to complete the task. Along with clear goals, teachers need to consider protocols and structures to facilitate effective group work. Whether it is a critique protocol or reciprocal teaching, these structures can help ensure that the group work moves along efficiently and with purpose.
Scaffolding Culture
How are you building a culture of collaboration in your classroom? Teachers should not forget the importance of scaffolding the skills needed for students to work in groups. Paired with a good collaboration rubric, where students know what is expected of them in terms of behavior, teachers need to scaffold skills such consensus building, effective communication, and the ability to critique. Educators need to explicitly teach and assess collaboration, a critical 21st-century skill, if they want their group work to be productive.
Individual Accountability
This can work in many ways. If you keep the group size limited, it can lead to greater individual accountability, because the work must be spread over a limited number of people. Clear and authentic roles can also lead students not only to value each other's work, but also to realize that the task or project can only be completed when everyone does his or her role and work effectively. It is also crucial that an educator builds in formative and summative assessments from these group work sessions so that he or she can check for understanding and ensure that individual learning is occurring.
Productive group work creates collaborative learning, a model where all students contribute. It really builds a team where the learning and learners are interdependent. More of this shared work needs to happen in the classroom, but only when careful steps have been taken to ensure success.
How do you ensure productive group work with collaborative learning? Please tell us about your strategies in the comments below.