Literacy
Point of Entry: Poetry in the Classroom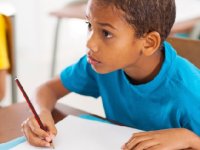 Since beginning times, almost every history and culture has celebrated the beauty of poetry. Epics such as the Iliad and Odyssey, the Epic of Gilgamesh, and Beowulf celebrated man's struggles, while Shakespearean sonnets captured the exquisiteness of poetry. Edgar Allen Poe credits poetry for being the "rhythmical creation of beauty in words." With such accolades, one cannot ignore the importance and enrichment that poetry brings to curriculum. However, poetry is so much more than meter and rhyme. The versatility of this medium lends itself to any lesson, any grade level, and every student.
A Way In
At the beginning of the school year, poetry is a creative way to get to know your students. Begin by having students Think, Turn, and Talk about where they are from. (I often show clips from an episode of The Dick Van Dyke Show, "Where Did I Come From?") After talking, display the poem "Where I'm From" by George Ella Lyon. After reading and analyzing the poem, have students create their own versions of it, emulating Lyon's structure and imagery.
"Ode to Pablo's Tennis Shoes," by Gary Soto, is another imaginative poem that you can use to learn about your students. Have them quick-write all the places they've ever visited, or all of the places they wish to visit. Then, display the poem, analyzing the figurative language that Soto employs. Challenge your students to write their own odes, using tennis shoes or another article of clothing that has traveled with them.
"Hands," by Sarah Kay, applauds the beauty of hands and endless possibilities they possess. After viewing Kay's spoken-word poetry, have students create their own variation of her poem. They might consider writing about their eyes, ears, or even feet! Have students share these with one another, challenging them to remember the physical attributes of their peers.
Words, Characters, Methods
Poetry can also be used in word study. In Vocabulary Is Comprehension: Getting to the Root of Text Complexity, Laura Robb includes poetry as a vehicle for understanding denotation and connotation, which we examine to derive the meaning of a poem. In analyzing complicated diction, such as that in Robert Frost's "The Road Not Taken" or William Blake's "A Poison Tree," the reader can fully visualize the themes of exploration and wrath.
Poems such as "Grandma," by Ralph Fletcher, fully describe memorable characters using both direct and indirect characterization. "To a Daughter Leaving Home," by Linda Pastan, captures the coming of age experience from a mother's perspective. Have students create an acrostic, definition poem, or shape poem about characters, people in their lives, and complex or underdeveloped concepts, including defining characteristics, attributes, and experiences.
Figurative language, such as symbolism, similes, personification, and onomatopoeia, are further reinforced through the use of poetry. Methods, such as SIFT and TPCASTT (PDF), establish a purpose for the close reading of a poem. For example, have students identify words and phrases that create a negative or positive tone in Theodore Rothke's "My Papa's Waltz." Provide students with an outline of a fish, and then read aloud Elizabeth Bishop's "The Fish." Have students color the fish, using text evidence as support for their illustrations.
Unique poems, such as Kalli Dakos' "Call the Periods Call the Commas" and Len Roberts' "I Can't Forget You," can be used to teach many rules of capitalization and punctuation. Challenge your students to read Dakos' poem in one breath, or analyze the capitalization in "I Can't Forget You." "We Real Cool," by Gwendolyn Brooks, is an excellent poem for examining grammar and sentence structure, as well as assonance and consonance. Students can craft their own versions of these poems, using simple sentences or a variety of sentence structures, grammatical features, and capitalization.
Themes and Gifts
Poetry is an excellent entry point into other genres. Pair Bishop's "The Fish" with "Jangles: A Big Fish Story" by David Shannon to explore the joy of fishing. Use Martin Niemöller's "First they came. . ." poem in conjunction with "Rose Blanche," a picture book by Ian McEwan, in a study about the Holocaust. Explore themes, such as death and dying, by using the poems "Janet Waking," "Bells for John Whiteside's Daughter," and texts such as Annie Dillard's "Death of a Moth" or Kate Chopin's "Story of an Hour." Compare fathers in Robert Hayden's "Those Winter Sundays," Roethke's "My Papa's Waltz," and the picture book "Every Friday" by Dan Yaccarino. Discover the joy of nature through the poem "Lemon Tree" by Jennifer Clement, picture books, such as "Our Tree Steve" by Alan Zweibel and Shel Silverstein's "The Giving Tree," and Gary Soto's "The Grandfather."
Be daring and creative in your use of poetry. For many, it is a gift that keeps giving, long after one leaves school. As Beatrice Schenk de Regniers explains:
How do you use poetry in your classroom?