Parent Partnership
Parent Partnership: Collaborative Ideas to Bring Joy to Your Teachers
May 20, 2014
Updated April 24, 2014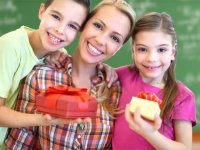 Months before May 6, Teacher Appreciation Day, you watch your child's teacher corral 33 high-strung kids onto a bus for yet another magically-funded field trip. She seats Bella (who loses her Frosted Flakes at the first hairpin turn) up front, and gives Ryan (whose special-ed aide called in sick) his favorite audiobook for the long ride. You think, "This year, Teacher Appreciation Day is going to be different. This year, this incredible woman will know how dearly she is loved."
That was months ago. Now Teacher Appreciation Day is fast approaching, and all you know is that you are bringing potato salad to the teacher's lunch.
Don't despair. There's no need to reinvent the wheel to bring joy to your teacher's life. Other parents have gone before you and created heartwarming gifts that will send an unforgettable message to the rockstar in your child's classroom.
What's the secret to a great teacher appreciation gift?
Keep the focus on what teachers say they appreciate. The most cherished gifts are those involving expressions of gratitude. A thoughtful note, a scrapbook, or hefty gift cards are tokens that show you've noticed what this teacher needs or enjoys.
Get collaborative. Sound complicated? It doesn't have to be. Group gifting used to be the provenance of Super Parents, but these crowdsourced ideas from GreatSchools parents offer ideas ranging from pricey to free, elaborate to drop-dead simple.
Beyond Well-Wishes: WooHoo!
Recently, Jeannie Elmstrom's fourth-grade daughter was looking for ways to celebrate her teacher on her ten-year teaching anniversary. She started a page on WooHoo!, a site dedicated to celebrating individuals by inviting loved ones to upload well-wishes and photos. "Pretty soon, we had the most glorious, heart-warming page . . . with thanks and praise for this amazing teacher," Elstrom recalled. See an example for Ms. Tamar at Ocean Charter School in California, whose response to the gift was simply: "Best. Gift. Ever."
Cost: Free, with a keepsake book costing $25 - $45.
Organizing time: A few hours to start the page, invite parents and email reminders.
Lead time: One week
Tasty eBooks
There's nothing quite like a customized book to preserve photos, drawings, stories and sentiments as memories. However, many busy parents -- recalling the yearbooks of yesteryear -- will balk at the idea of organizing such a multifaceted project. But with Book Creator, an app that works on Android or an iPad, you can collaborate on a book quickly and easily without so much as a single meeting. Since it's truly an ebook, you can add audio and video along with photos and text. Want to create something especially enticing? Ask each student's family to email you or upload a recipe and a picture of their child -- and create a cookbook. Deliver it with one of the dishes, and you've got a gift the teacher can savor today and for decades to come.
Cost: Free - $4.99, depending on the version.
Organizing time: A few hours to start the book, send out communication and pull the book together at the end.
Lead time: One week
Kids Say the Darnedest Things
Why do teachers teach? The smell of freshly-minted textbooks or debates over standards? Naw, we all know it's the kids. So why help not preserve memories of those cuties forever? Rak Bhalia filmed each student in his daughter's fourth-grade class as they answered a series of questions about their teacher. including, "What does she say when she's not happy about your behavior?" and "What super power would she have, and how would she use it?" He then edited a mashup of the answers, making sure to represent each child. This custom documentary delivers a collaborative wallop of love and gratitude, but avoids a lot of adult collaboration -- which some parents may be too exhausted to tackle. (Bhalia recruited one parent to help asking the questions as he filmed.) It also let kids show their appreciation in their own words, often unwittingly proving that even the daydreamers are careful observers of their beloved teacher.
Cost: Free
Organizing time: A week to film kids at recess and lunch, and five hours to edit their responses.
Lead time: A few days to develop questions and work out a plan.
Speaking from the Heart: Life on Record
If you're concerned that hi-tech collaboration may not fly, then consider the collaborative gift that uses nothing but a telephone. Life on Record offers a toll-free number that allows people to call in and leave stories and well-wishes for a teacher. Seven years ago, Shannon DeShambo organized the creation of a CD for her daughter's kindergarten teacher. After listening to it with her class, the teacher had "tears rolling down her cheeks over the biggest smile I had ever seen," recalled DeShambo. This tool is especially useful for veteran teachers, as you can involve far-flung former students. The tool then allows you to edit the audio clips and present them in multiple forms.
Cost: $49.99
Organizing time and skills: A couple of hours to invite people and then edit their responses.
Lead time: A week or two
The Mind-Body Correction
Don't want to use technology? Consider the chill-pill package. The spa weekend, massage series or extended yoga pass can sooth the dedicated but stressed-out educator who needs some "me time" after a year of "Oh me me me! Teacher, me!" Wrap the gift certificate in a fresh washcloth and a chunk of lemon verbena soap, and presto! You've got a teacher who knows just how appreciated they are.
Cost: $50 or more
Organizing time: A couple of hours to gather money and come to an agreement.
Lead time: Two weeks
Did you ever give your child's teacher a gift that brought tears of joy to his or her eyes? Please tell us about it in the comments section.