Technology Integration
How to Provide Meaningful Support Services in a Virtual School: Robust Family Support (Part 1 of 4)
The Dean of the Family Support Department at the Pennsylvania Virtual Charter School on the Diamond Model of Partnership
Okay, so we know the stereotypes and myths of virtual education, right? Students are not engaged. They sit in front of a computer all day. There are no opportunities for socialization. . .
As the Dean of the Family Support Department at the Pennsylvania Virtual Charter School (PA Virtual), I am often asked, "How are support services offered in a cyber school?" To some degree, the concept of virtual education is still new in many states so I am always happy to explain how we do it!
PA Virtual is a public school in Pennsylvania that educates 3,500 students in grades K-12. For 10 years, we have embodied four core principles to operationalize what we now call our Diamond Model of Partnership.
The Four Principles of the Diamond Model
Principle One At the heart of our core philosophy is the belief that all young people can achieve academic success, if they are provided rigorous instruction, high standards, informed guidance and individual attention.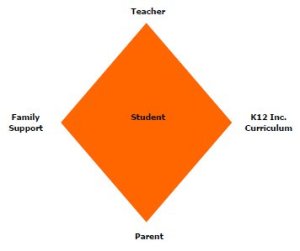 Credit: Adrienne Scurry
The Diamond Model of Partnership
Principle Two Numerous studies have demonstrated that when parents become active and informed partners in their child's education, test scores rise, dropout rates and apathy decline and the active pursuit of learning becomes a compelling focus for each family.
Principle Three The PA Virtual community believes the content and the quality and rigor of the curriculum directly effects student's academic performance and achievement.
Principle Four Technology can be leveraged to be a powerful tool to support an effective education.
This piece will focus on our Family Support Department, which is one of our points on the Diamond Model of Partnership. But first, a bit about the Diamond . . .
The Diamond Model at Work
The uniqueness of PA Virtual can be evidenced through the manner in which we leverage the depth and breadth of partnerships throughout our entire community. Our Diamond Model of Partnership was operationalized to capitalize on the richness of engagement and interaction that we have with our academic staff, parents, support staff and curriculum providers. Throughout our entire school environment, the components of our diamond influence our core business, which are children and their full achievement.
It is interesting that many people signify achievement by getting good grades or getting into a great college, both of which are completely acceptable. However, we assert that supporting the fullness of a child's entire development is also a key component. This means that students require a litany of support, resources and guidance to enrich their academic achievement. We believe and have found that students simply perform better when the level of support increases. In our school, the litany of support offered through our Family Support Department can be categorized in four primary areas, including:
Academic Support Programs 28 staff members
Title I -- support students with academic gaps
Step-Up -- support students with academic gaps
Co-Curricular & Collaborative Learning -- support students with writing, comprehension and reading
SOAR -- fosters the potential of advanced learners
SLAM -- support students with academic gaps
Academic and Social Support Programs 6 staff members
K-12 Guidance Support
Student Assistance Programming
Parent Support Programs 3 staff members and 30 parent volunteers
Parent Ambassador Program --- a program for parents, led by parents. It is designed to provide mentoring to learning coaches and build stronger partnerships between parents and staff
Student Support, Health and Compliance Program 20 staff members
Pupil Health
Family Support Coordinators
There is little doubt that every student needs additional support and guidance on the road toward reaching twelfth grade and life after high school. As such, the Family Support Department at PA Virtual was developed to do just that. Additionally, in response to meeting Chapter 12 regulations in the state of Pennsylvania, Student Support Services are not ancillary to the academic program, rather, they are intricately connected for the achievement of students.
In addition to the array of support programs mentioned above, PA Virtual was the first school in Pennsylvania to partner families with a geographically assigned Family Support Coordinator (FSC) and this where the discussion of socialization begins.
Socialization Opportunities: Outings
Family support coordinators operationalize our Diamond Model of Partnership by collaborating with teachers and parents to promote monthly opportunities for socialization, called outings. Since 2001, students across the state of Pennsylvania have participated in outings that have ranged from kickball games to visits with state senators and legislators to museum visits. Part of our job as educators is also to connect the threads of relevance for students. How many times have students asked, "Why do we have to do this or learn that?" outings provide us with an opportunity to enrich student learning and experiences through real-world, practical application. So if a student is learning about music theory and aural skills, a trip to see "The Nutcracker" helps students to listen and understand these aspects of music more critically.
The other valuable component of outings relates to parents, as they must accompany their children to our events. Excluding the supervisory aspect of parent accompaniment, the greater, more valuable reason is because of our partnership with parents as learning coaches. A parent or legal guardian commits to being in the home with the student on a daily basis. Their role as learning coaches is to partner with our certified teachers and family support coordinators so they, too, understand and can assist students in understanding the relevancy in concepts and practical application. More on the role of teachers and learning coaches in future posts.
Outings can be an excellent way of mobilizing your student body. The fact that we are a virtual school has not limited our ability to provide students, parents and staff with opportunities to be engaging and participatory partners in our school. It just needs to become the mindset and culture of the organization. Our Diamond Model of Partnership has become a best practice for sure! It speaks directly to the success that a virtual school can have without losing the high touch feeling that schools are built upon.
Want to learn or chat more about how a virtual school operates? PA Virtual would love to hear from you! Feel free to contact me through my Edutopia profile. Next time we will talk about Academics . . . another part of our Diamond.