New Teachers
5 Tips for New Teachers to Become Connected Educators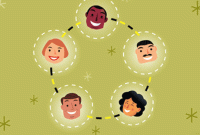 Editor's Note: Connected Educator Month (CEM) was launched by the Department of Education in August 2012, and this year, it's being held in October. This post from Lisa Dabbs is a great primer for becoming a connected educator, and it's a must-read for CEM. (Updated 10/2013)
This month, the U.S. Department of Education kicked off Connected Educator Month, with engaging keynotes, panel discussions, book chats, and more. During this month, educators in the U.S. and globally will have opportunities to connect themselves and their communities, online and in-person, to support their professional practice. The timing couldn't be better, as most teachers are preparing to hit the ground running as they gear up for back-to-school!
While the idea of being or becoming a connected educator is important, as a new teacher, this may seem completely overwhelming. There are resources in abundance for this month of learning, such as the CEM Starter Kit [PDF] and the Connected Educator Month Calendar. These sites are packed with wonderful information, truly enough to get the head of a new teacher spinning!
Having said that, I'd like to chunk this Connected Educator Learning Month opportunity into five educator "Be-Attitudes" that might be easier for a new or pre-service teacher to embrace.
Be sure to read each one and give us some feedback.
1) Be Able to Define What It Means to Be a Connected Educator
2) Be Knowledgeable about Web 2.0
The term "Web 2.0" can be applied across broad categories of emerging technology tools and design principles, social and economic shifts, business philosophies, participatory media and culture, etc. . . . Web 2.0 tools (blogs, wikis, podcasts, social networking and social bookmarking sites, tagging, photo- and video-sharing, RSS, etc. . . .) are collaborative, Internet-based and user-driven. They include platforms and tools for publishing, connecting, sharing, organizing and remixing. They are social.
A popular synonym for "Web 2.0" is the "Read/Write" web, which suggests that users are contributing, creating and collaborating rather than just consuming web content. "Web 1.0" or the "Read-Only" web was a place where the average user didn't publish content, because it required technical knowledge (HTML and other programming code) and money (to purchase server space and software). Web 2.0 tools allow users to easily participate and to customize their online experiences.
Now . . . what can we derive from this? How will you apply it? Take a minute and write that answer out for yourself. It shouldn't be too much of a surprise to discover that Web 2.0 is about Web-based technologies that, at their core, are social and work to connect people and ideas. All of which I think is pretty amazing!
3) Be Willing to Join a Social Media Network
As a new teacher, you may at times feel isolated. The power of an online community is that you can probably find someone else who'd like some company. More than that, it's a way to be a part of something bigger than yourself. You can also freely contribute, or ask a question. For starters, consider joining our New Teacher Connections Group here on Edutopia. You can also find other great communities such as The Educator's PLN, which will offer wonderful opportunities to connect to resources you may have never known existed!
And don't stop there! I encourage you to take the leap of joining Twitter. Twitter is an online social media networking and micro-blogging service that enables its users to send and read text-based posts of up to 140 characters, informally known as "tweets." Twitter is a powerful social media tool for educators and can be a huge source of support for new teachers. If you aren't yet on Twitter, check out Sue Waters' guide to Twitter. Her post will walk you through the process of setting up your account.
Once you're there, read about hashtags and how they work, and start following #ntchat (New Teacher Chat) to get timely resources tweeted by the educational community, crafted more specifically for new teachers. Let us know when you take the leap and join by tweeting "I joined Twitter!" with the #ntchat hashtag.
4) Become a Blogger
I often hear excuses from new teachers as to why they don't blog: "It's too hard. I'm too tired. I just don't have anything to say." I hope that during this month of focus on connected educators, you will consider ditching those excuses. Many teachers are blogging, and I can't say enough about the power of blogging in your life as a new teacher. It will help you reflect, get feedback, collaborate . . . and connect! I was a novice blogger two years ago, and I'm pleased to share that my blogging experience will always be a journey of discovery -- I kind of like that. Check out my blog, and the "Blogs I Follow" list (in the right hand column of my home page) to get a feel for what others are doing with this medium.
Here are two resources to consider in this process: Blogs in Plain English and Here's My Blogging Story! What's Yours? Take a minute to read and view, then reflect on the idea of where and how to start. There are awesome blogging platforms available on the web. Pick one that speaks to you such as Blogger, Tumblr or Edublogs, and give it try. Need some topic ideas? Look no further than your own current experience.
Remember: "One of the best ways to build your personal learning network is to become a blogger and use your blog to network with others." - CEM Starter Kit
5) Be Reflective and Reach Out
When you look back on the journey of this month, you'll find that you need to share your experiences. I want you to capture these reflections in a journal, on your blog, or with an online diary. The ability of a journal to allow for personal reflections is a gift. In the process of your own journal writing, you will come up with great ideas of how to do this in the future with your students.
For a quick, easy way to journal, use your blog! Or check out Penzu or LiveJournal. Both are free and fun. Now . . . write a short, reflective post sharing what you gained in your month-long journey towards becoming a Connected Educator. Are you in?
Share with us! As a new teacher, what does it mean to become a Connected Educator?