New Teachers
New Teacher Boot Camp Week 1 – Using Wordle
Activities to help new teachers practice using Wordle
Welcome to the first week of New Teacher Boot Camp! If you would like to participate, please register: New Teacher Boot Camp Registration. Registration will be open until July 15, 2011 at 5 PM Pacific.
Please view this introductory video before we get started . . .
video
Our first lesson is on using Wordle in the classroom. www.wordle.net
Wordle Overview
Wordle is an online tool for creating word clouds from passages of text. The more frequently a word appears in the text, the larger it shows up in the word cloud. It has so many amazing uses which you will enjoy experimenting with.
Here is an example of a Wordle with words pulled from my blog, Teaching With Soul.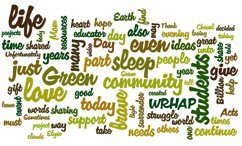 Wordle of TeachingWithSoul.com
Wordle in the Classroom
Wordle looks great and is a lot of fun -- there are so many possibilities for creative classroom use. Because it creates word clouds, it lends itself particularly well to vocabulary and reading lessons. To share more about this tool I've invited Joan Young, a fourth grade teacher in California, @flourishingkids on Twitter, to share a few suggestions with us.
Here, Joan shares some ways that she uses Wordle in the classroom. You'll learn how to create a Wordle at the bottom of this post.
Overview: Wordle Basics
Wordle is great for so many activities. For example, the Guess the Wordle activity, created by Jennifer Wagner, is a great way to begin a lesson. You might want to spend a little time on her site to see how she's using it.
When students create their own Wordles, they practice and learn keyboard commands like copy and paste. While observing students composing a Wordle, teachers can informally assess students' basic keyboard skills.
1) Wordle as a book project
For book projects, I often give Wordle as an option. In the following example, students create a Wordle to represent character traits, citing specific examples that support the trait.
"Create a Wordle of key events that illustrate a trait of a main character. Use color and font to support your expression."
Students had to choose a character trait and give examples of how the character's actions in story events exemplified that trait. Here's a student example from book Maniac Magee by Jerry Spinelli.

Student Example
2) Wordle for editing
Students can input a paragraph and the Wordle can show if they are overusing certain words. Teachers can also model this process of editing, pasting their own blog post link and making a Wordle of it.
3) Wordle for compare and contrast experiences
I used a survey for Grandparents' Day. My students interviewed their grandparents and put their answers into Wordle. Students felt free to editorialize as you can see in this student example!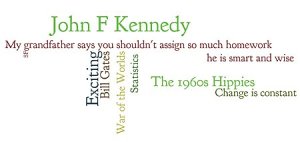 Student Example
Thanks to Joan for these great Wordle ideas to jump start our learning!
More Useful Links for Using Wordle in the Classroom
As you are starting to get excited about ways to use Wordle, here are a few links that have some great suggestions on how to use it with students in the classroom.
July 11: Wordle Webinar Opportunity
Join Simple K12 for a Wordle webinar! Find out how to create word clouds -- graphical representations of the most commonly used words or tags in a particular text or web site.
Wordle webinar presented by: Kim Munoz
Date: Monday, July 11, 2011
Time: 1:00-1:20 PM Eastern Time, US
Week One Project: Create a Wordle & Post to Wiki
Ok, campers -- now it's your turn to practice making a Wordle. When you complete your practice time, post your Wordle project example on your wiki page that you've created.
Preparation: Create your own wiki page here: New Teacher Boot Camp wiki.
Creation: Create your own wordle at Wordle.net. Feel free to use some of the suggestions above, or come up with your own ideas.
Sharing: Here's the easiest way to post your Wordle:
Once you've created your Wordle, take a picture.
Save your captured pic as a jpg. or png. file on your desktop.
Go to your page on the wiki.
Click on "file for images" link in the top tool bar menu on your page.
Follow the instructions to upload your Wordle pic.
It will be saved as a "widget" on your page.
Give your Wordle pic a caption.
Save it!
Once you've successfully posted your Wordle, please post the URL here.
Thanks for participating in New Teacher Boot Camp! I can't wait to visit the wiki this week to see what you came up with! If you have questions along the way, to our New Teacher Connection group and we will get back to you.
Thanks for joining us for this first week of the journey into this fun, summer learning opportunity!
About Joan Young
Joan Young teaches 4th grade after having taught kindergarten/1st grade for many years. She teaches in northern California in the San Francisco Bay area. She has an M.A. in Clinical Psychology and is passionate about helping kids discover their strengths and become excited about learning. She is the author of 25 Super Sight Word Songs and Mini Books.