Communication Skills
Mystery Location Calls: Communicating Across Cultures
In a Mystery Location Call, students practice effective and respectful communication along with their research and deduction skills to locate their partner class on a map.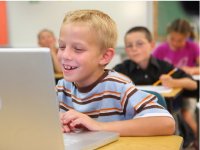 We are a connected class. We are also a diverse class. For these two reasons, I love to use technology to meet, discuss, and even collaborate with other classes around the globe. From our class Twitter account to our frequent Mystery Location Calls, I make a point of opening our classroom to the world. However, that comes with a huge responsibility -- not only am I exposing my class to students of other cultures, but also teaching them how to communicate with people from different backgrounds. This is crucial if we expect our students to learn and later work in a global society.
As I prepare my students for online communication, I take steps to ensure positive interactions with people from diverse cultures and backgrounds. As I offer these steps, think about how you prepare your own students to communicate across cultures.
What is Online Communication?
"What is communication?" I ask my eager third-grade students. "It's when two people talk to each other," they reply. I then ask, "Is it possible to communicate with others who are not physically present with us?" Their eyes light up. They know exactly what I'm talking about and their excitement shines through. "You can talk to family members on Skype!" exclaims one student.
This is the type of discussion I have with my gifted students before we connect for the first time. I like to start by talking about what it means and looks like to communicate effectively with others. The scenario of communicating with others when they are not directly in front of us usually serves as my hook. After discussing which behaviors are acceptable and which ones are not, I introduce our experience, whether it's a Mystery Location Call, a guest speaker, or any other type of online exchange.
Mystery Location Call: A Format for Online Communication
Imagine a background of murmurs, shuffling papers, and moving chairs. Atlases and maps? Check. Questions on the clipboard? Check. Class Twitter account set? Check. I hit the "Start Hangout" button and we hear the bells ring. Seconds later, we see the other class, smile, and wave. It's showtime!
A Mystery Location Call is when two classes connect via a videoconferencing tool like Skype or Google Hangouts to guess each other's location using deductive reasoning and geography skills. In these calls, students are assigned jobs to complete as the call takes place. The objective is to narrow their search down to a country, state/province, city, and even a school! This process is also done through a series of yes and no questions. Here's how I structure it:
Pre Call (Preparation): Students brainstorm some questions for starting their call and how to introduce the class.
During the Call (Action): This encompasses all the tasks that take place during the call, including a lot of behind-the-scenes action as students complete their jobs.
Post Call (Reflection): After the call is over, students reflect on their experience and how to improve it, as well as ask any follow-up questions to the other class via other online platforms (Twitter, blog, etc.).
Since every online exchange varies in structure, it's important for students to know their role in communicating. For example, if we have a guest speaker talking to us, we divide into groups to research and compile questions. Students will also take turns asking those questions throughout our call. If we are sharing cultural artifacts with a class in another country, my students may need to prepare a script for showcasing their artifacts or products. For each call or experience, I make sure that each student has a role in preparing and executing the actual call. When students feel responsible for something, they take their role more seriously.
More importantly, offering a working structure leads to more effective communication between classes. This reminds me of one call to a class in a different country. While both classes equally anticipated the call, our partner class was so excited that they were all talking at the same time. It was very difficult to understand what they were telling us. My students saw firsthand the importance of taking turns in a conversation. While talking is not prohibited by any means, they now understand that there is a time and place for it.
Perception Is Everything
"So what projects are you working on?" we ask. "We're making robots!" they reply.
My students smile and almost in unison whisper, "Robots."
"How about y'all?" they ask. "We're working on some poetry and creative writing," one of my students replies. Silence. "That's pretty lame," snickers a girl from the other class. It wasn't very loud, but to us, that comment spoke volumes.
During these calls, perception is important. I stress that our connections come with great responsibility, because we are representing our school, our state, and sometimes our country. I mention that we must take into account how our online exchange may be one of the few times that our partner class communicates with people who represent our backgrounds. This is why we must be respectful and mindful of not only what we say, but how we say it.
After the preceding dialogue about robots and poetry, I took the opportunity to discuss how this particular comment made my students feel. They admitted that it stung a bit. I even asked if they wanted to connect with that class again, and they told me no. The interesting part was not that the comment was made, but that the student who made it offered no apology. This was a learning experience for my students showing that impressions are very important if we wish to maintain communication and collaborate with classes around the world.
Connecting with other classes comes with expectations and responsibilities. The number one thing to remember is that communication is not perfect, nor is it meant to be. The best approach is to take those instances of ineffective communication and turn them into learning experiences for your students. These teachable moments allow them to figure out how to communicate with others and maintain relationships that center around respect.