Project-Based Learning (PBL)
Making Room for Children's Ideas Through PBL
An educator recognizes the value of PBL while watching his young son play creatively with engineering design, scaling, iterating, imagining, selecting materials, and mapping steps toward a goal.
A recent experience at home reminded me that the unfolding of learning can emerge when tasks are in service of a bigger goal that children really care about. That evening, my six-year-old son Benjamin asked me, "Can you help me build a hospital for my dolls and stuffed animals?" I seized the opportunity to turn this into a project-based learning family moment. I was thankful that he did not ask me to buy him a ready-made hospital set, nor was he asking for tablet time.
An Evening With Benjamin
"What kinds of things are in a hospital?" I asked. Ben started listing his ideas: doctors, nurses, beds, and machines. He finally settled on a wheelchair as the most interesting thing he wanted to build. I'm not an engineer but I knew we first needed to know what parts and shapes make up a wheelchair. I did an online search for images of wheelchairs, adding clip art to my search terms because I wanted him to see the basic outline of shapes. Ben studied the samples quietly and noted, "A wheelchair is like a chair, but did you see that it has two big wheels in the back, and two small wheels in the front?"
After selecting the initial design, we now needed to build it. Rather than making a suggestion, I asked, "Do you have any ideas on what we should use to build the chair?" Experienced at crafting, Ben ran to the recycling bin, fished out a big cereal box, and cut out the two largest surfaces as the raw material. But he was unsure of what shape he should cut first. I suggested that we start with the chair shape. Immediately, he grabbed a doll to show me exactly how wide the wheelchair needed to be.
Next, we needed wheels. Freehand, he drew large circles and smaller circles for the wheels, but he noted the circles were "kind of crooked." He switched to using rolls of scotch tape and painter's tape as better models for wheels. "But how would we connect the wheels?" I asked in earnest. He found pipe cleaners to use as axles. After 30 minutes, we had a working prototype and Ben declared, "It's the perfect size and shape! Let's go show Mom!"
But when Ben sat his doll on the wheelchair for the first time, the chair buckled. It was not sturdy enough. He took a breath and suggested, "Tomorrow, we need to make it stronger." I told Ben how proud I was of his effort and creativity, and that we would keep at it tomorrow. But it was now time for a bit of school reading, followed by a bath. He and I both felt accomplished. Here is what the first attempt looked like: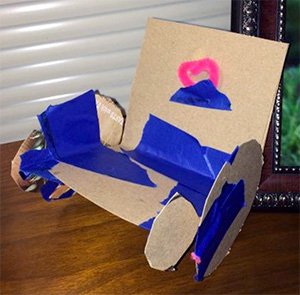 Photo credit: Jack Dieckmann
Learning Through Play
Ben and I were not doing traditional school. He was not imitating me as I built my version of a wheelchair. He was initiating, deciding, creating, figuring out, and evaluating. Recall that in studying the online images, he abstracted the essential features of wheelchairs. And he was very mindful of design specifications in deciding how wide to make the seat. But this was joint work. He had key help from me, mainly in the form of patience, encouragement, and hints when needed.
Of all the attributes of PBL, to me, the most important is that children have a big say in the direction of their work. Ben's driving goal to make a hospital for his dolls allowed him to be diligent in the subtask of making a wheelchair. I was very glad that he was not crushed when the initial test of the wheelchair failed to hold his doll. To me, this showed his profound orientation toward learning, one of continuous revision and improvement, of not expecting perfection the first time out. This was a growth mindset moment for him.
I have worked in and with schools for 25 years, so I know that school is not organized in the way that family time can be organized. This recounting is not meant as a blueprint for classrooms. Instead, it's an experience serving as a powerful reminder that children have enough creative momentum to propel their learning, if we can tap into it more and more.
Imagination and Exploration
What did Ben learn through play and exploration? He learned about engineering design, scaling, and iterating, as well as imagining, selecting materials, and deciding on next steps toward a larger, complex goal. Opportunities to develop these skills are rare in the ways that schools are normally run, but very common in classrooms that use project-based learning. PBL in schools is necessarily more planned around content standards, and therefore has more constraints. For many of us who embrace PBL, we continue to wrestle with this design challenge: How can we make room for children's ideas within and alongside the rigorous content that schools are required to teach? One possible way would be to draw more on children's imagination (like Ben's hospital idea) and storytelling as motivating contexts for learning. In older students, this might take the form of simulations, which is the basis of most gaming.
I invite you to share experiences of how you've made room for children's ideas in learning, either in or out of school. The more stories that we can gather, the more inspiration we can draw upon as we both design for learning and allow learning opportunities to emerge.