Assessment
How Can We Make Assessments Meaningful?
I think meaningful assessments can come in many shapes and sizes. In fact, to be thoroughly engaging and to draw the best work out of the students, assessments should come in different formats.
Thankfully, with the Common Core standards exemplifying the 4Cs -- Creativity and Critical Thinking (through performance-based assessments), Collaboration, and Communication (through the use of interdisciplinary writing) -- we are looking at a more fluid future in testing formats. As long as the format itself is aligned with real-world skills, a meaningful assessment does not need to be lockstep with a particular structure any more.
When I think about my own definition of a "meaningful assessment," I think the test must meet certain requirements. The assessment must have value other than "because it's on the test." It must intend to impact the world beyond the student "self," whether it is on the school site, in the outlying community, the state, country, world, etc. Additionally, the assessment should incorporate skills that students need for their future. That is, the test must assess skills other than merely content. It must also test how eloquently the students communicate their content.
Criteria for a Meaningful Classroom Assessment
To address these requirements, I ask myself the following guided questions:
Does the assessment involve project-based learning?
Does it allow for student choice of topics?
Is it inquiry based?
Does it ask that students use some level of internet literacy to find their answers?
Does it involve independent problem solving?
Does it incorporate the 4Cs?
Do the students need to communicate their knowledge via writing in some way?
Does the final draft or project require multiple modalities (visual, oral, data, etc.) in its presentation? 
Clearly not all assessments achieve every single characteristic listed above. But in our attempt to address some of these elements, we will have made our classroom assessments so much more meaningful. It is vital that students connect with the value of their assessments. After all, if a student trusts that the assessment is meaningful and will help them later on, it helps with both their achievement and with your own classroom management.
Transparency and Why It's Important
It's important that we inform the students why a particular assessment has value. Some teachers still balk at this job, as if students should just trust that what we do in school has value to what happens outside of school. However, kids are smart. They know that bubbling with a #2 pencil is antiquated. They know that much of the content we teach them can be found through Google. But as savvy as students are, they don't know everything about communicating their content, and we owe it to them to make sure that not only are our tests aligned with skills they must know for their future, but to make sure that we've been transparent in our rationale.
So how can high-stakes assessments be meaningful to students? For one thing, high-stakes tests shouldn't be so high stakes. It's inauthentic. They should and still can be a mere snapshot of ability. Additionally, those occasional assessments need to take a back seat to the real learning and achievement going on in every day assessments observed by the teacher.
The key here, however, is to assess every day. Not in boring, multiple-choice daily quizzes, but with informal, engaging assessments that take more than just a snapshot of a student's knowledge at one moment in time.
But frankly, any assessment that sounds cool can still be made meaningless. It's how the students interact with the test that makes it meaningful. With the 4 Cs in mind, ask if the assessment allows for the following:
Creativity Are they students creating or just regurgitating? Are they being given credit for presenting something other than what was described?
Collaboration Have they spent some time working with others to formulate their thoughts, to brainstorm, or to seek feedback from peers?
Critical Thinking Are the students doing more work than the teacher in seeking out information and problem solving?
Communication Does the assessment emphasize the need to communicate the content well? Is writing involved, as well as other modalities? If asked to teach the content to other students, what methods will the student use to communicate the information and help embed it more deeply?
Rubric on Meaningful Assessments
So as an activity for myself, I created a rubric to look at whenever I was wondering if an assessment was going to be a waste of time or was going to connect with the students. (Click the chart to download the PDF.)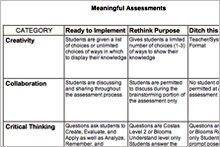 Credit: Heather Wolpert-Gawron
Click to download the PDF of this chart. (275 KB)
Another way to ensure that an assessment is meaningful, of course, is to simply ask the students what they thought. Design a survey after each major unit or assessment. Or, better yet, if you want to encourage students to really focus on the requirements on a rubric, add a row that's only for them to fill out for you. That way, the rubric's feedback is more of a give-and-take, and you get feedback on the assessment's level of meaningfulness as soon as possible.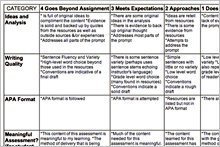 Credit: Heather Wolpert-Gawron
Click to download the PDF of this chart. (209 KB)
Download the example (left) of a quick rubric I designed for a general writing assessment. I included a row that the participants could fill out that actually gave me quick feedback on how meaningful or helpful they believed the assessment was towards their own learning. As an instructor and lesson designer, I want a quick turnaround between when I assign an assessment and if I need to adjust the assessment to meet the needs of future learners. By also giving them a space to fill out, they own the rubric even more, and will pay more attention to what I fill out knowing that I gave them an opportunity to also give me feedback. It's one way the students and I can learn reciprocally.
So how do you ensure that your classroom assessments are meaningful?