Maker Education
The Maker Movement: Standing on the Shoulders of Giants to Own the Future
The Maker movement's pedagogical roots reach back to 18th-century Europe even as its branches reach globally to transform 21st-century education.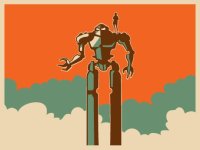 Many teachers know that children learn best by doing. Champions of project-based learning have decades of research to support this, including Edutopia's own compendium. In recent years, the Maker movement has generated a new following in education with many teachers adding interesting new tools and materials like robots, 3D printing, e-textiles, and more. The idea that interesting materials and opportunities for students to work independently on in-depth projects dovetails nicely into what we know about creating optimal learning environments for children.
Should we worry that making in the classroom is just the new-new thing, soon to be replaced by some other newer new-new thing? Should we worry that lots of schools will run out and buy 3D printers without thinking about what they will do with them? Yes, I think we should worry, but not give up! To prevent this, I like to combine the work of education pioneers and giants with the new work of scholars to show that this is more than just a fad or a chance for a shopping spree.
I also think that "making" shouldn't be just making anything. Schools have a tendency to cherry-pick the easiest parts of implementing complex ideas. When we talk about making in the classroom, we have to continually raise the bar and challenge ourselves to create an academically worthy process. The best way to do this, in my opinion, is to add computational technology to the making.
A computer with appropriate software means that opportunities for design, simulation, precision, accuracy, measurement, feedback, sensors, data, and programming are not just possible, but greatly enhanced. Interaction between the digital and physical world adds a level of complexity that results in greater understanding of both.
Meaningful Learning
Papert defined a learning theory, constructionism, that holds the key to understanding the educational potential of the Maker movement:
Papert's constructionism takes Piagetian constructivist theory a step further toward action. Although the learning happens inside the learner's head, it happens most reliably when the learner is engaged in a personally meaningful activity that makes the learning real and shareable. This shareable construction may take the form of a robot, musical composition, paper-mache volcano, poem, conversation, or new hypothesis.
This is much more than hands-on learning. The "meaningful" part of constructionism is not just touchy-feely new age language. It acknowledges that the power of making something comes from the learner's question or impulse and is not imposed from the outside. Questions like "How can my car go faster?" or "I like the way this looks, can I make it prettier?" are treated as valid, and in fact, potentially more valid than criteria imposed by anyone else, including a teacher. Constructionism empowers learners to connect with everything they know, feel, and wonder, stretching themselves into learning new things. It seeks to liberate learners from their dependency on being taught.
But you can look back even farther to find educational pioneers who taught that learning with "head, heart, and hands" is the key to uplifting all children. The phrase is attributed to Johann Pestalozzi, who taught that all children were worth teaching, even the poor -- and even girls! His writing influenced thousands of educators, and the schools established using his methods taught tens of thousands of children to think for themselves. One such student, Albert Einstein, said of his childhood education in a Pestalozzi school, "It made me clearly realize how much superior an education based on free action and personal responsibility is to one relying on outward authority."
Friedrich Froebel built upon Pestalozzi's ideas to design the first kindergartens. Italian medical doctor Maria Montessori embraced many of Froebel's ideas, notably the deliberate use of materials for learning specific concepts, in creating her approach to educating poor preschoolers. It's easy to find widespread support for the idea that hands-on experiences are crucial for students to develop deep understanding.
Making and Transformation
It's not just the work of historical figures that we can use to make the case for making in the classroom.
The modern Maker movement has its roots in timeless craft traditions combined with new materials and a community approach to problem-solving spread globally by the reach of the internet. Makerspaces and hackerspaces are springing up around the world where people come together to solve problems and share solutions. Libraries and museums are opening makerspaces as well, extending hands-on discovery centers into the 21st century. Educational institutions should take notice when a learning revolution is happening outside its doors. School loses relevancy to young people when it fails to connect to the real world, to their world, and the world of the future.
The Transformative Learning Technologies Lab at the Stanford Graduate School of Education focuses on how new technologies can deeply transform the learning of science, engineering, and mathematics. They are creating and researching cutting-edge educational technologies, such as computer modeling, robotics, digital fabrication, and rapid prototyping, creating hands-on learning environments in which children learn science and mathematics by building sophisticated projects and devices. Another of their projects is the FabLab@School project, adapting cutting-edge fabrication labs for schools worldwide.
It's no coincidence that the director of the TLT Lab is Dr. Paulo Blickstein, who studied under Seymour Papert at MIT and channels his mentor when he rejects "hands-on without heads-in" and says that the lesson schools must learn is "that there can't be making without sense-making."
There are other research initiatives poised to provide evidence that making is not just another fad. Agency by Design at the Harvard Graduate School of Education is investigating the "promises, practices, and pedagogies of maker-centered learning experiences." They see a new kind of hands-on pedagogy emerging, one that "encourages community and collaboration (a do-it-together mentality), distributed teaching, boundary crossing, and a responsive and flexible pedagogy."
Human Assets
I like being on the same side as Piaget, Papert, MIT, Stanford, Harvard, thousands of museums and libraries, and a global revolution. But an even better feeling is when I talk to teachers and students in maker classrooms who say things like, "I see the world differently now," or "I can look at a complex thing, see how it works, and make it better."
When children develop a sense of themselves as successful problem solvers who can change the world, they are assets to themselves, their families, our communities, and the world. I believe that bringing the tools, technology, and ethos of the Maker movement into classrooms is justified historically and supported by the finest research institutions in the world. Go forth and make it happen!