Maker Education
Make the Most of the Maker Movement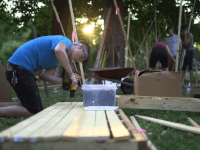 A surprise arrived in my mailbox last week. The mystery envelope contained two pieces of finished wood, cleverly designed to fit together -- no tools required -- into an X-shaped bookshelf.
The X-Space design is the latest product of middle school students in the Studio H program at Realm Charter School in Berkeley, Calif. I snagged my souvenir by supporting their successful Kickstarter campaign to build their own school library, outfitted with interlocking X-Space shelves and tables.
Emily Pilloton, the innovative educator behind Studio H, describes her approach as "a design/build public school curriculum that sparks community development through real-world, built projects." (Pilloton's inspiring efforts to bring design/build education to North Carolina are featured in the documentary, If You Build It.)
In other words, Studio H students learn by making. In the process of applying core concepts to real-world challenges, they develop a designer's eye and heart for problem solving. They build confidence as they progress from novices to skilled carpenters, welders, and designers of beautiful, lasting things that enhance their community. They leave behind not only a changed environment, but also stories about what they have made together. In this classroom workshop, making is an indispensable part of learning.
Make-to-Learn Momentum
There's no doubt that make-to-learn is a hot trend, complete with its own hashtag (#makered), reading list (check out Invent to Learn by Sylvia Martinez and Gary Stager), allies and advocates (such as the Maker Corps. As a sign of the times, the White House hosted a Maker Faire earlier this year.
Yet as I watch makerspaces pop up in schools across the U.S. and internationally, I can't help but wonder how many are also making way for a different approach to instruction. To realize the opportunity that the maker movement offers education, students need room for self-directed learning and interdisciplinary problem solving. While setting up spaces for hands-on tinkering, schools also need to make mental space for creativity, risk taking, and learning from failure. Those qualities are central to maker culture, but still rare in too many school settings.
How can we make the most of Maker education? Here are a few suggestions from early adopters who are making the most of this promising movement.
Beware Big Budgets
3-D printers, CAD software, and laser cutters are not must-haves for makerspaces. Technology offers certain advantages for designing and prototyping, but so do sewing supplies, recycled cardboard, used lumber, and soldering irons. More important than gaining access to expensive tools is learning how to turn raw ideas into prototypes that can be tested, refined, and improved through feedback.
Don't Get Boxed in
Beware makerspaces that are designed to serve the needs of only one discipline. Making is an interdisciplinary activity, and makerspaces should offer opportunities for ideas to cross-pollinate. Students who gravitate toward an engineering or STEM approach to problem solving may get fresh ideas from watching artists work out solutions (and visa versa). Collaboration is more likely to happen when thinking and tinkering take place in the open.
Connect with Community
Makerspaces are flourishing in a variety of settings, including public libraries and community centers. (Invent to Learn website) includes a global directory. That means potential mentors for your young makers may be only a Skype call or field trip away. On the flip side, community members may be interested in bringing their creativity to your school makerspace.
At the American School of Bombay, an international school in Mumbai, India, that has embraced makerspaces for K-12 education, parents team up with their children for monthly Maker Saturdays. (Read about ASB's evolution as a school for makers in this blog post.)
Celebrate Maker Moments
Maker Faires are community events that showcase and celebrate grassroots creativity. Here's how these events are described on the Maker Faire website.
Part science fair, part county fair, and part something entirely new, Maker Faire is an all-ages gathering of tech enthusiasts, crafters, educators, tinkerers, hobbyists, engineers, science clubs, authors, artists, students, and commercial exhibitors. All of these "makers" come to Maker Faire to show what they have made and to share what they have learned.
Make a point of celebrating maker moments in your school makerspace with an end-of-project showcase or mini-Maker Faire for the community. Encourage students to tell the stories behind their ideas and describe the process that took them from inspiration to finished product.
Learn Together
Makerspace enthusiasts tend to be eager to share what they know. If you're interested in seeing a school makerspace in action, check out this curated list from Bob Pearlman, a longtime advocate of project-based learning and innovation in education.
The Studio H Toolbox includes lesson plans and activities ready to borrow or adapt for your students.
Has your school created a makerspace, or do you have a mini-maker space in your own classroom? Tell us in the comments section below how you're using these spaces to make new opportunities for learning.